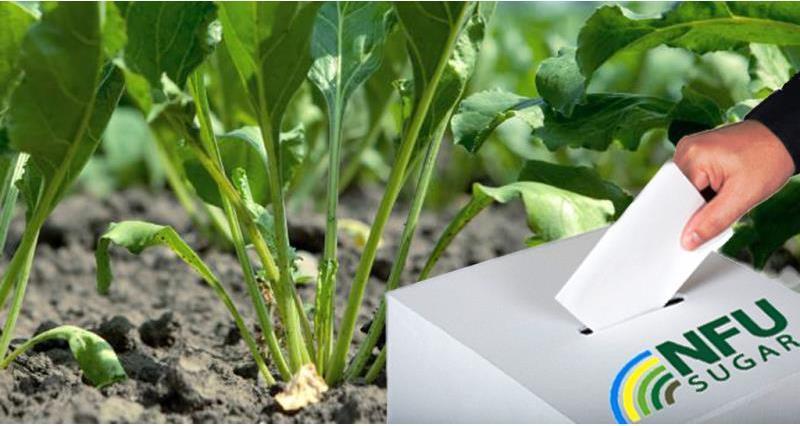 NFU Sugar works on your behalf through both a dedicated staff team and a democratically elected Board of grower representatives. Each year, NFU Sugar holds elections for the vacant positions on the Sugar Board and welcomes nominations from across the grower base.
In 2018, the Board agreed an updated Terms of Reference which outlines the electoral rules in full. There will now be three positions on the Board up for election each year, each for a three year term.
Board elections this autumn
All current sugar beet growers are eligible to stand for election to the Board; growers need not be a member of the NFU. In addition, professional farm managers who manage sugar beet contracts are also eligible to stand for election.
Candidates standing for election must be nominated by at least five growers. A grower is an individual grower of sugar beet in the UK contracting with the processor to grow sugar beet and paying levies in respect thereof. Candidates must be nominated by the named contract holder.
Three Board positions are available to serve a three-year term. Newly elected members will join the Board at the March meeting in Stoneleigh.
To ensure reasonable geographical representation on the Board, in addition to the (existing) automatic requirement for grower representation from all four factory areas, a provision in the Terms of Reference approved in 2018 directs that the North East region will also have separate, automatic representation on the Board.
If you are interested in applying, you can find a copy of the nomination form here. Alternatively, you may request paper copies by telephoning the NFU Sugar Helpline on 03700661974. This form must be returned to either

bmZ1c3VnYXJAbmZ1Lm9yZy51aw==

or to NFU Sugar, Agriculture House, Stoneleigh Park, CV8 2TZ.
Completed nomination forms must be returned to NFU Sugar before 11am on Monday 11 November 2019.
If more than one nomination per place is received by the closing date, growers will have the opportunity to vote (either online or by returning a ballot paper that will be sent out in November).
Each contract will have one vote per vacancy to be filled
Any potential candidate with queries about the electoral process can contact NFU Sugar through the NFU Sugar Helpline on 03700661974.