The 2020 sugar beet contract announcement includes a three-year contract offered for 2020-22 at a price of £20.45/t, with no crown tare reduction. This is equivalent to a price paid on a crowned basis of £21.90/t in year one and an equivalent £21.18/t in years two and three. You have been asking us why the equivalent price in the 3 year deal is changing from 2021 onwards.
This was a change required by British Sugar as part of the 2019 contract agreement in which NFU Sugar secured the removal of crown tare, but it also contributes to a simpler, more transparent system which is supported by NFU Sugar.
What is the sugar scale?
The sugar scale is the formula that converts clean tonnes to adjusted tonnes. You'll all be familiar with clean tonnes being 'adjusted up' when sugar content is above 16%, and 'adjusted down' when there is a lower sugar content – the sugar scale tells you how much to adjust by at any given sugar percentage.
What is changing about it?
The current sugar scale will remain in use in 2019/20 and 2020/21 so you will only experience the effect of the sugar scale change for the crop drilled in 2021. In the current sugar scale, although adjusted tonnes are based around a 16% sugar baseline, loads above 16% sugar are rewarded more over and above their greater sugar content, while loads below 16% have an additional penalty. The new formula is much simpler (no hidden penalties or bonuses), and simply adjusts tonnages in direct proportion to a 16% sugar baseline. This can be seen below: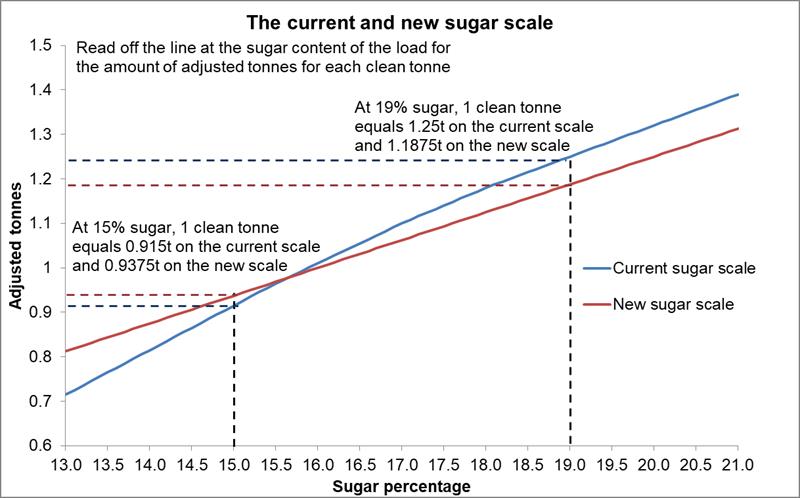 What about crown tare?
Fixed crown tare will be removed from measured and paid tonnes, meaning each and every load will measure as 6.61% more clean tonnes.
What does this mean for my deliveries?
Crown tare removal increases paid tonnes for every grower, but this is somewhat offset by the change to the sugar scale. The net impact of these two changes in 2021 is to increase measured and paid tonnage on average by c.3%, which is the reason for the price adjustment in 2021 and 2022. However, all growers will be affected differently, as growers with above average sugar contents will lose out in overall revenue while those below average will gain in revenue. The example below compares a grower delivering at 16% sugar, which will gain from this change, with a grower delivering at 18% sugar which would lose out:
Grower with below average sugar content

Grower with above average sugar content

1000 adjusted tonnes at 16% sugar

1000 adjusted tonnes at 18% sugar

Paid price

Clean tonnes

Sugar scale factor

Adj. tonnes

Revenue

Paid price

Clean tonnes

Sugar scale factor

Adj. tonnes

Revenue

2020/21

£21.90

990

1.01

1000

£21,900

£21.90

847

1.18

1000

£21,900

2021/22

£21.18

1060

1

1060

£22,455

£21.18

907

1.125

1021

£21,622

2022/23

£21.18

1060

1

1060

£22,455

£21.18

907

1.125

1021

£21,622

Net gain/loss after change in basis:

£555

-£278
Clean tonnes – This increases in both cases in 2021/22 following removal of 6.61% crown tare
Sugar scale factor – This is the figure which clean tonnes are multiplied by in order to arrive at adjusted tonnes. The factor in 2020/21 is from the current scale. When the sugar scale changes to a linear scale in 2021/22, the factor changes by a different amount in the two examples leading to a different impact on revenue.
Will this affect variety choice?
Yes, as the RL currently shows varieties ranked by adjusted tonnes according to the current sugar scale. The new sugar scale will mean varieties have to be assessed on this new basis, meaning those with typically lower sugar content but higher root weight will improve slightly whereas those with higher sugar contents will fall slightly.
The RL currently displays sugar yield underneath adjusted tonnes. The new sugar scale from 2021 will mean that the adjusted yield on the RL becomes identical to the sugar yield of each variety.