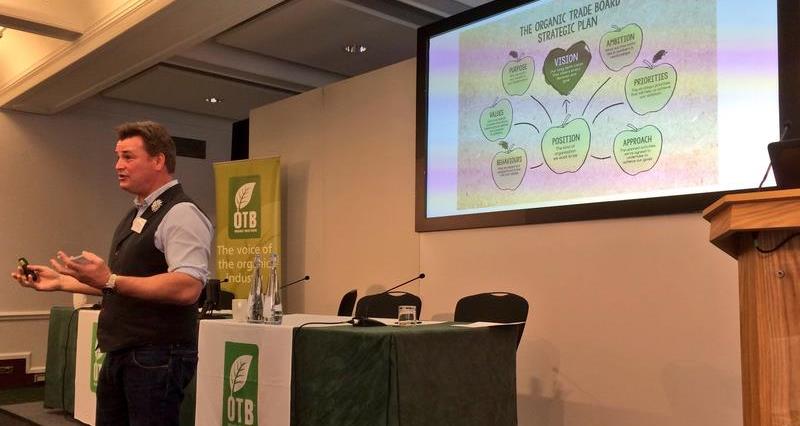 NFU graduate trainee Alisha Anstee reports on a visit to London for the Organic Trade Board's annual briefing.
She writes:
Day three of my new placement and I find myself walking through Westminster heading for Church House conference centre to hear what the organics sector has been up to for the last year and what's in line for 2018. Upon arrival I was greeted by tables of organic products from yoghurts and granola to nut butters and fruit, all part of the 'wake up to organic' campaign. The room was filled with an array of ages and professions all with an interest in organics but not necessarily edible, we had representatives from beauty and wellbeing to clothing and parchment paper.
Adrain Blackshaw, chairman of the OTB kicked off the day with a welcome and introduction to a jam packed room of retailers, organic growers, wholesalers and trade boards. First up we heard a very detailed yet succinct overview of world organic growth from Roger Kerr (CEO at Organic Farmers and Growers). Roger's key points outlined that whilst we have seen continued growth in all areas in 2016, we are not keeping up with the pace of Europe! In 2018 we must address this through better data analysis and continuous monitoring.
Next up, Kathleen Keliher gave an overview of organics and Brexit and stressed Defra's future vision is focused on positive environmental practice. The new Environmental Land Management (ELM) scheme will provide funding to encourage benefits to biodiversity and wildlife, increase water and soil quality and create woodland. The ELM will be an intersection between the 25 year environmental plan and the consultation paper that was launched last week.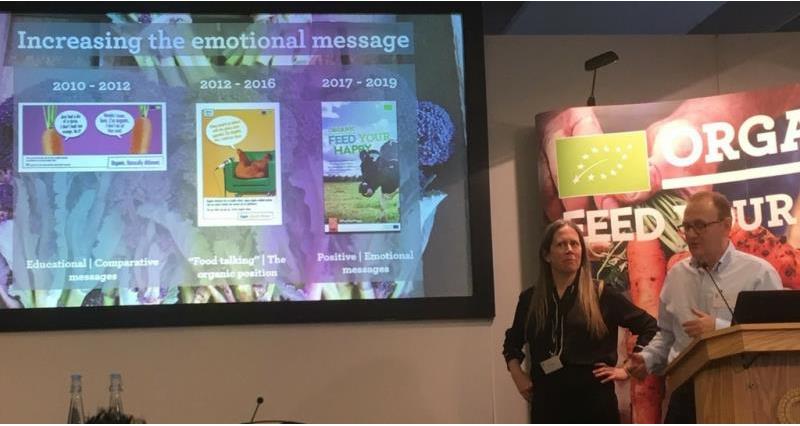 We had an overview from the Soil Association of the UK market and consumer behaviour which highlighted the main target groups who buy organic and included 'Family Foodies', 'Fitness Fanatics' and the vegetarian and vegan market. It was heavily stressed that the combination of being organic and British was the 'winning factor', with organic buyers really driving products produced on home ground. This sounds like a huge opportunity for British farmers to tap into.
The presence of organic in the food services sector has increased drastically and this pattern looks set to continue. Despite the consensus that major cities are the largest organic buyers, two-thirds of sales came from outside of London last year!
Paul Moore and Aileen Nicol gave an overview of the 2017 campaign, #feedyourhappy and stressed that the fundamental goal was to promote organic products as being everyday purchases, aligned with the OTB's long term goal to make organic an everyday choice, forever. We were presented with many graphical examples of how much influence a campaign has to the number of sales but the reality is that sales drastically reduce, usually returning to initial numbers once the campaigns life cycle comes to an end.
So what more should be done to reinforce the messaging post campaign life and prolong the engagement?
Adrian Carne from Yeo Valley spoke of the Organic Trade Board's strategic plan which included a challenging ambition to secure £2m annual fund to invest in building a £12bn UK organic industry.
The Q+A was incredibly engaging, NFU Organic Forum member, John Alpe questioned the current levy structure and suggested that a proportion of the current levy organic growers pay be redistributed to purely organic work, such as the OTB.
To finish the day we heard about the 2018 campaign briefing which provided an overview of key dates in the diary and the promotion of their campaign- Wake up to Organic, which is scheduled for June and aims to demonstrate how easy switching to an organic breakfast is by holding events all over the country!
Find out more about the Wake Up to Organic campaign.
David Attenborough's latest series stressed the effect of plastic waste on the oceans and this was referenced in the annual briefing. As a result, lunch was provided by Planet Organic and was presented in 100% recycled lunch box material.
The day was truly informative and united with so many spectrums of professionals under one roof. After five hours of an engaging agenda it was time to head back to Stoneleigh.