Some of the industry's brightest talents are in the running for a £2,000 training grant.
This year, the Zoetis-NFU Poultry Trainee Award attracted entries from across the industry – broilers to egg layers and pedigree breeding to feed compounding – and involved training providers across the UK.
All the entries were of a high calibre, showing the depth of talent in the industry.
Instead of the normal face-to-face meeting with the judging panel, the interviews will take place remotely in the new year to determine the winner, who will receive a £2,000 training grant sponsored by Zoetis. Normally, all finalists would attend a presentation event where the winner is announced and they would be guests at the NFU Conference in Birmingham.
How the 2020 award winner will be announced has still to be decided, depending on the developing pandemic restrictions.
Meet the finalists...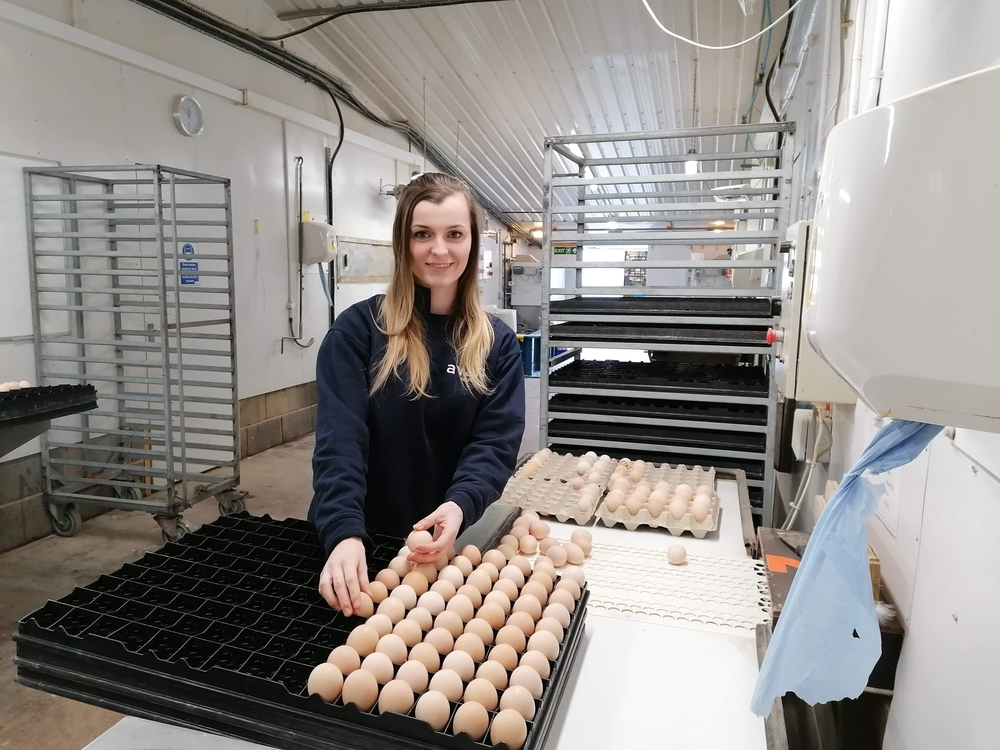 Emily Grove – Avara Foods, Herefordshire
Initially, Emily Grove saw her career as a veterinary nurse, then decided to work with poultry rather than companion animals. She started with Avara Foods part-time in April 2018, quickly developed her practical skills and became an assistant breeder farm manager earlier this year.
She obtained a Level 3 poultry technician qualification with Poultec Training in May, and is seeking to complete the Level 4 Poultry Passport, with an ambition to become an area manager.
Avara team area manager Kimberley Evans has only known Emily for a short time but is impressed by the feedback from her previous area manager who "has explained that for such a young person her ambition and excitement for learning and achieving new and innovative ways on Dugdale farm has been fantastic".
Her entry shows a wide awareness of many key issues today, including practical steps to enhance biosecurity and drinking water quality. She highlights the need to encourage more young people to seek careers in the industry and to convey a more positive impression to the public.
Emily said: "I believe all company farms and hatcheries should have viewing rooms allowing members of the public to see the birds without entering the biosecure area."
Kane Burchell – Hook2Sisters, Gunness
After debating whether to go to university when student fees trebled, Kane Burchell worked initially on a family farm supplying free range eggs to Noble Foods and then moved to Hook2Sisters in 2017.
Starting as a farm worker, he became assistant manager a year later and then in 2019 moved to a farm near Gainsborough, Lincolnshire, working in a team of three managing 330,000 birds each crop.
During the past two years he has completed a Level 3 Diploma in work-based agriculture with Poultec Training, impressing his tutor Colin Emberley with "a great ability to take in information, learn quickly and put this knowledge into practice".
General Manager of Hook2Sisters, Gunness, Werner Strydom said Mr Burchell is very good at motivating the people he works with through his 'can do' and 'hands on' approach and nothing is ever too much or too difficult to do. Soon after his promotion, Mr Strydom arranged for him to visit another farm to see how the other farm manager deals with specific issues such as inlet management and ventilation.
Mr Strydom said: "Kane took a lot from this visit and it showed me again just how valuable it is to get young people out from their usual environment to see different ways of dealing with the same issues to help them develop and broaden their thinking."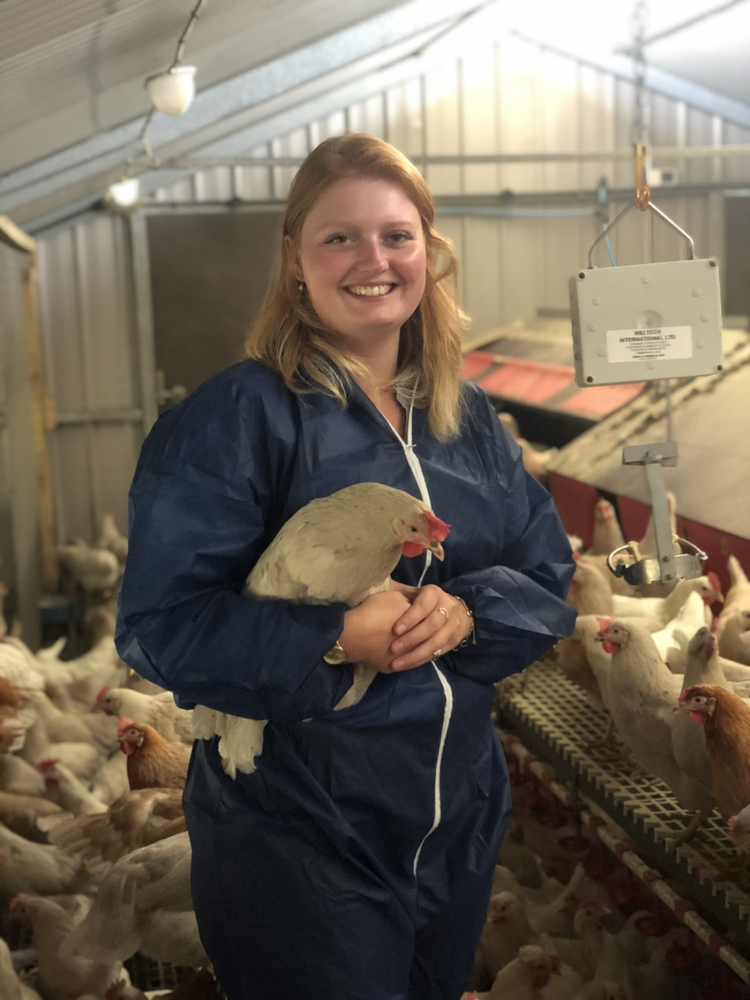 Harriet Smith – Crediton Milling Co, Devon
Brought up on a dairy farm, Harriet Smith opted to go into the poultry industry after graduating from Royal Agricultural University.
She began her career with Alltech and moved in January 2020 to Crediton Milling Company where she has been busy furthering her knowledge of poultry nutrition.
Director of Crediton Milling Andrew Power said: "Many people have taken this last year as an opportunity to step back, but Harriet has used the time to further her training at an increased pace."
Ms Smith is now in the final year of distance learning studies for an MSc in applied poultry science at SRUC. Her tutor Dr Victoria Sandilands explained how she working on a project to look at how pandemics affect consumer buying power – "quite topical and we look forward to reading her thesis in the spring."
To support egg producers she would love to invest in a 'Crackless Egg' – electronic eggs that can be put into the nest boxes and run throughout the system to detect vibrations to determine where cracks are caused. Ms Smith said: "This technology has the potential to save producers hundreds of pounds."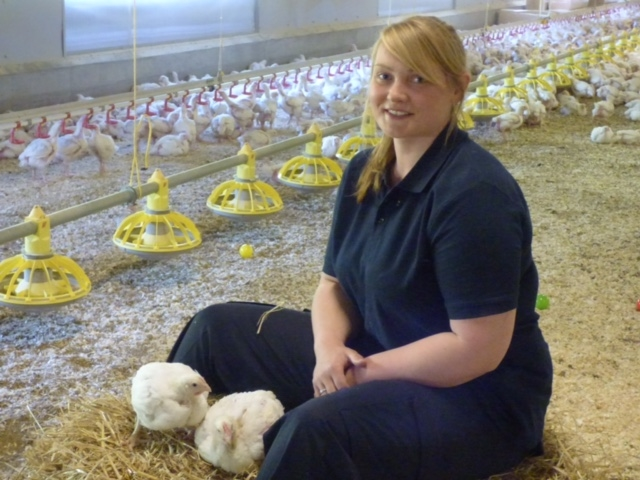 Laura Harrison – Hook2Sisters, Scotland
Beginning her career in pedigree production with Aviagen, Laura Harrison moved to Hook2Sisters in 2013 and became a farm manager on a 200,000-bird site two years later. Now, she is a trainee area manager responsible for two sites as well as helping with managing the farm assist team and training to become a qualified assessor.
PD Hook General Manager Frank Lawson commends her ability to find new ways to tackle old problems, her easy going, 'hands on' approach and her bringing a fresh perspective.
Moving to Hook2Sisters meant Ms Harrison could work part-time and study for a BA in human resources at Abertay University. She chose to continue her studies alongside her full-time career, enrolling for an Applied Poultry Science post-graduate diploma from Scotland's Rural College (SRUC) and is now in her final year, which she is funding through a student loan of around £8,000.
Laura sees future recruitment as a big challenge: "The poultry industry isn't recognised as a career option for a lot of young people. We need to promote British chicken, British farming and promote good working conditions to attract young workers."