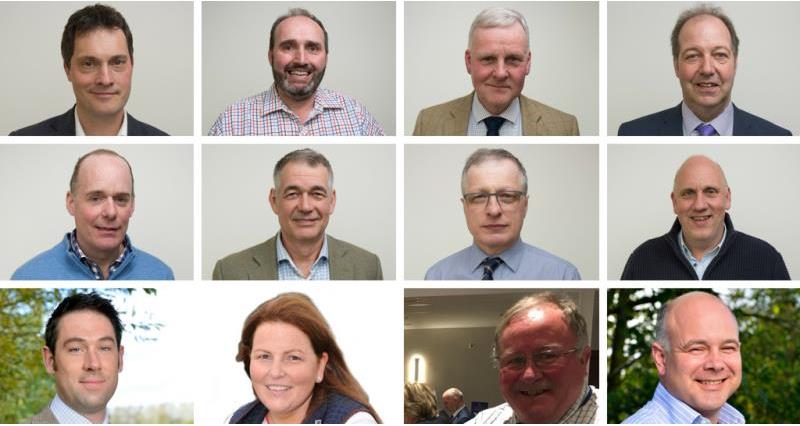 There are twelve board members representing different regions and sectors of the poultry industry. Tom Wornham was elected Chair and Phill Crawley Vice Chair and you can read more about them here.
Poultry Board Chair: Tom Wornham, East Anglia – The fourth generation farmer studied at Harper Adams before acquiring an old poultry unit before getting planning permission to redevelop the site.
Poultry Board Vice Chair: Phill Crawley, East Midlands – Phill and his brother Ady run the family farm in Leicestershire, which was set up by their parents in 1971. It has free-range and colony laying hens and it packs and markets its own eggs
Duncan Priestner, North West – Duncan has stepped aside as chairman but will remain on the board. He farms two sites alongside his brother comprising a pullet rearing business and an egg-laying unit with 120,000 hens.
James Hook, South East – Chairman of the PD Hook Group, which operates a large independent breeding and hatchery business selling day-old broiler chickens throughout the UK.
Charles Bourns, South West – Based in South Gloucestershire, Charles has been involved with the NFU for nearly 30 years, including a stint as board chairman and has recently redeveloped his broiler farm.
Simon Barton, South West – Simon and his wife Karen left London in 1997 and set up the poultry farm in Bridgwater in Somerset. They have 140,000 chickens grown to Freedom Food standards.
Kinsey Hern, West Midlands – Kinsey is a broiler farmer from Herefordshire and he also grows apples and cereals for retail.
Mike Bailey, North West – Baileys Turkeys Ltd produce primarily for the Christmas market, but Mike and his brother David also contract processes free range and organic chicken and turkeys.
Myles Thomas, West Midlands - Shropshire-based Myles has focused on egg production at his farm. The Thomas family has worked in Shrewsbury since 1935, formerly with dairy cows, but the site now houses circa 50,000 free range birds.
Matthew Green, North East - Based near Warter in the North East, Matthew is one of the Wot-A-Pullet founders, which is an independent pullet rearing business born in 2008 from the Wot-An-Egg enterprise. Wot-A-Pullet now has 24 pullet rearing sites and supplied an estimated five million pullets to laying farms last year.
Patrick Joice, East Anglia - Broiler grower Patrick was one of the first members of the NFU's Poultry Industry Programme when it first launched in 2012. He has since chaired the 2015 and 2017 cohorts.
Victoria Shervington-Jones, Wales - On her family farm in Monmouthshire, Victoria worked with battery hens and broilers until 2000 when they changed to free range production. She graduated from Royal Agricultural College in 2004 and took over the family farm in 2009.
The board members selected eleven co-options to join them based on the skills and knowledge expertise they felt would add depth to the board.
Co-opted board members:
Claire Bragg - A former Farmers Weekly Awards Poultry Farmer of the Year finalist, Claire Bragg and her husband Nick have worked in broiler production since 2006, when they inherited two small chicken sheds in Somerset.
Steve Carlyle - At age 14, Steve started collecting eggs at weekends and now he is part of Country Fresh Pullets, which sells seven million pullets per year.
Robert Gooch - Prior to becoming the CEO of BFREPA, Robert was a consultant in agricultural policy in Brussels and the UK.
Mark Gorton - Around 30 years ago, Mark helped establish Traditional Norfolk Poultry, which specialises in growing and processing free-range chickens and turkeys for the high street.
Gareth Griffiths - Gareth is a partner in the family business JA & O Griffiths based close to Wem in Shropshire, which has a substantial egg operation. He manages more than one million layers and packs 50,000 cases of eggs per week.
Martin Humphrey - Martin has produced and sold poultry feed for nearly 30 years, and is now responsible for pullet sales. He has a strong interest in the free range and organic sectors.
Paul Kelly - As the managing director of Kelly Turkeys, Paul prefers to be called a turkey farmer and is the largest independent turkey hatchery in the UK, supplying more than 450 farmers with specialist breeds for Christmas.
Chris Fenteman -With a business made up of 400 acres of arable and 35,000 free-range hens spread over two sites, Chris has invested in solar PV and a wind turbine and will soon be starting a woodchip CHP project.
Mark Forster - Mark is a Cumbrian broiler producer near Penrith. The majority of his chicken is produced for the catering sector and sold to Chesterfield Poultry.
David Speller - Known as one of the most innovative minds in the industry, David entered the sector with little knowledge of poultry, having spent much of his time learning about arable, but is now a successful global consultant.
Martin Troop – Martin is a managing director at Noble Foods and is responsible for the Gainsborough plant that processes end-of-lay hens and broiler breeders. He is focusing on expanding into international markets.