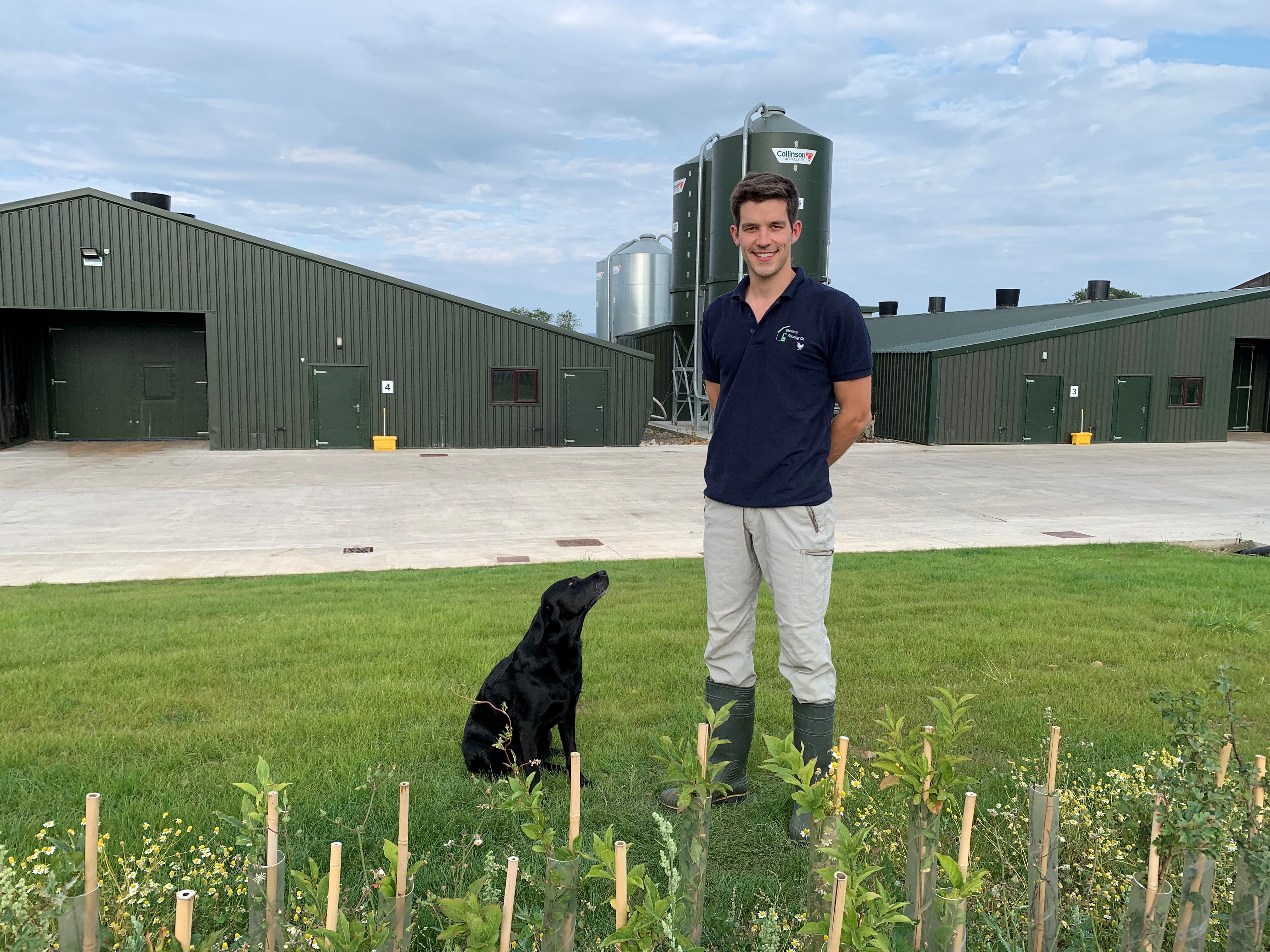 Daniel Blenkiron, a poultry and arable farmer from North Yorkshire, is the winner of the NFU's Hedges Competition.
Daniel wins 100m of hedgerow plants, fulfilled by the Woodland Trust MOREhedges scheme and funded by Lloyds Bank.
Entries to the competition showcased the knowledge and passion of NFU members, and the work they're doing to establish, improve and repair hedges on farm.
Our winner
Daniel has already started planning where to establish his new hedge which is set to be delivered during tree planting season, between November 2021 and March 2022.
He said:
"I entered this competition because I wanted to bring more of the benefits of hedges to increase biodiversity on the farm. Hedgerows provide so many habitat opportunities and food for important pollinators and farmland bird species as well as storing carbon to help us achieve net zero. An extra 100 metres worth of hedge plants will allow us to extend our recently planted hedgerow around our poultry unit and provide additional site security while promoting local wildlife. Thanks to the NFU for holding the competition and thank you to the Woodland Trust for providing the hedge plants."
Watch Daniel explain the work he's doing on farm:
The prize
The prize contains a fantastic mix of species with enough to plant five whips per metre as a double row hedge. About half the mix will be made up of hawthorn, and the rest will comprise a range of species such as blackthorn, hazel, field maple, dog rose, dogwood and crab apple. There are also 25 oak saplings which will become the next generation of hedgerow trees. The whips will be provided with spiral guards and canes for protection, while the 25 trees will come with 1.2m tubes and 1.5m stakes.
MOREhedges
If you didn't win but are still looking to plant more than 100m of new hedging, the Woodland Trust's MOREhedges scheme could help provide the saplings, advice and funding.
It can subsidise up to 75% of the cost of new hedging if you plant the saplings and allow a large tree to grow every six metres. Eligibility criteria applies. Visit woodlandtrust.org.uk/plant to find out more and apply. MOREhedges is funded by Lloyds Bank.
#Pledge2040
As part of the NFU's net zero #Pledge2040 ambitions, we are committed to helping our members reduce their farms' carbon footprints. One of the tools available is the iconic British hedgerow.
Benefiting farms and the surrounding environment by storing carbon, improving biodiversity, and providing shelter for livestock and wildlife, the hedgerow is an asset to any farm.