The research, published in Scientific Reports, into the effectiveness of the badger cull in the original cull zones in Gloucestershire and Somerset showed a 66% reduction in new TB breakdowns in cattle in Gloucestershire and a 37% reduction in Somerset.
NFU Vice President Stuart Roberts said:
"This peer-reviewed research definitively shows the phenomenal impact culling badgers has on reducing TB levels in cattle. There should now be no doubt in anyone's mind that this policy works.
"Controlling the disease in wildlife is a crucial element to tackling this devastating disease, alongside a range of measures such as enhanced biosecurity and strengthening cattle movement controls.
"On such a strong scientific basis, it is absolutely vital that the government's strategy is continued in order to see reductions in all areas where TB is endemic."
NFU members: Email your MP and ask them to urge the Prime Minister to commit to the continuation of the government's 25-year eradication strategy.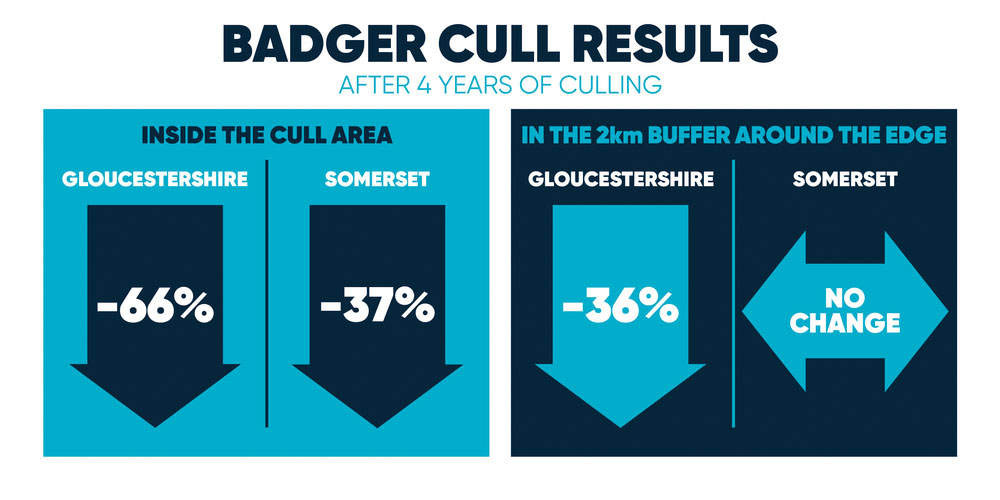 "When this strategy began, opponents to it cited estimates that wildlife control would only deliver reductions of 16% in TB outbreaks in cattle, at best. It is clear from this peer-reviewed evidence that they were wrong. Not only is there no evidence of increased incidence rates of TB in buffer areas, including no perturbation, the research reinforces the Chief Vet's view that proactive wildlife control forms a central part of a strategy to tackle the disease.
"Last year, nearly 33,000 cattle were slaughtered in England because of this terrible disease and more than 3,600 farms that had previously been clear were affected by it. This study should signal the end of the debate that keeps giving a false equivalence between vaccination and culling as a strategy to reduce infection in cattle."
NFU Vice President Stuart Roberts: This report is a real light at the end of the tunnel for farmers devastated by this disease:
A Defra spokesperson said:
"Bovine TB remains one of the greatest animal health threats to the UK, causing devastation for hard-working farmers and rural communities.
"This independent and detailed analysis builds on previously published data showing strong reductions in the disease in cattle in the Gloucestershire and Somerset areas over four years when compared to un-culled areas.
"There is no single measure that will provide an easy answer to beating the disease. That is why we are pursuing a range of interventions to eradicate the disease by 2038, including tighter cattle movement controls, strictly licenced badger control, regular testing and vaccinations."
NFU Vice President Stuart Roberts has said it's time to stop drawing false equivalence between vaccination and culling:
Den Leonard has been a practising farm vet for 26 years in the North West of England. He has witnessed TB creep through his practice area, which has led to his focus on the disease. Read A vet's view: Cattle, badgers and bovine TB
See also: bovine TB: NFU Myth Buster
The NFU animal health and welfare team has produced a members document to dispel some of the common misconceptions around bovine TB and answer many FAQs.
The myth buster covers a variety of topics from cattle movements, TB testing and vaccinations to a glossary of common abbreviations.
More from NFUonline: