More than 220 leading industry professionals from across the county attended a glittering ceremony, organised by Newsquest Cumbria in partnership with Carlisle-based accountants, financial and business advisers, Armstrong Watson, to toast exceptional individuals and generations of farming families across 14 categories.
The second Cumbria Farmer Awards 2022, hosted by John Wharton, farmer and livestock manager and auctioneer at Mitchell's Auction Mart in Cockermouth, at the Greenhill Hotel, near Wigton, rewarded innovation and talent. "This was a real celebration of the fighting spirit of the Cumbrian farming community," said John.
Widespread praise has flooded in from the farming community and industry leaders, who have hailed it as 'one of the best nights out in the county's farming calendar'.
Mr Neil Hudson, MP for Penrith and The Border, said: "What a pleasure it was to be a part of this wonderful celebration of everything that makes our Cumbrian farming communities great!
"Farmers play such an important role to life here in Cumbria. Not only do they contribute billions to the nation's economy and produce high quality food for our plates, they also play a vital role in protecting our precious environment and upholding world-leading animal welfare standards in the process.
"Thanks again to everyone involved, and congratulations again to all those nominated. They are a real testament to the wealth of talent we have right here on our doorstep. It was also brilliant that the fundraising on the night was in support of the Farming Community Network who do so much to help support rural mental health, an issue I am passionate about and working hard in Parliament on."
The 14 categories and a Judges Special Award, a Farmer's Choice Award, an Against All Odds Award and a tribute award in memory of Mike McKinley, former Chairman of the Lake District National Park Authority, who died earlier this year, honoured the county's remarkable people.
The NFU sponsored the Farming Champion category which was won by John Geldard of Low Foulshaw Farm in Levens near Kendal.
John has been at the forefront of the industry for many years and has seen significant change during his farming career, adapting his business along the way, and is a worthy winner of the Farming Champion Award.
Low Foulshaw Farm has been completely transformed, now running across 530 acres comprising 1,000 sheep and 150 Stabiliser cows. As agricultural policy has evolved, John has taken every opportunity to engage with the farming community at all levels, from Defra Ministers to young farmers looking to enter the industry. An opportunity to speak up for farming in Cumbria is never missed and a clear message is always delivered in a professional manner.
John has held important positions with more than 20 industry groups and organisations including Cumbria NFU, National Sheep Association, Westmorland County Agricultural Society and as a mentor on the Lord Henry Plumb Foundation.
Being at the forefront of engaging with consumers is a passion for John which he has achieved through the development of the Plumgarths brand.  Adding value to what is produced from the farm and building a relationship with ASDA for a range of local products has been a key achievement. The model developed with ASDA has been rolled out to other locations with the help and support of John.
David Hall, NFU Regional Director for the North West, said: "I have had the pleasure of knowing John throughout my time in farming and it is a pleasure to see the enthusiasm and passion for the industry that he has."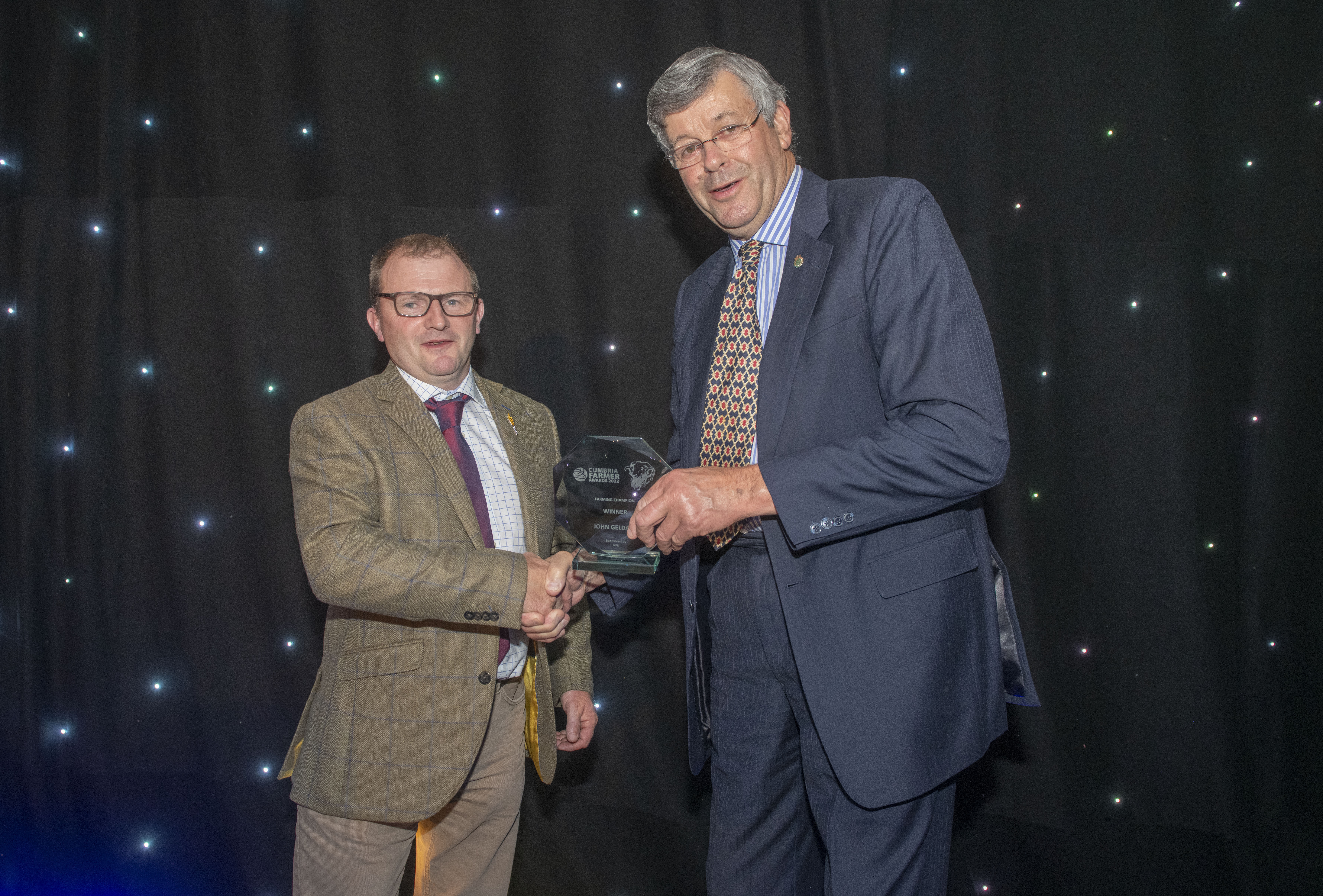 The award winners
Livestock Farmer of the Year: Mark, Louise, and Christopher Forster of AJ Forsters Ltd
Dairy Farmer of the Year: James Robinson
Tenant Farmer of the Year: Ross and Elaine Pattinson
Contractor of the Year: Steven Milligan
Diversification of the Year: The Torpenhow Cheese Company Ltd
Land and Environment Award: Sam and Candida Hodgson
Agricultural Student or Rural Skills Award: Sam Hutchinson
Young Farmers' Club of the Year: Lowick YFC
Supplier of the Year: David and Helen Brass
Food Retailer of the Year: Heritage Meats
Farming Champion: John Geldard
Women in Agriculture: Joanne Hall
Farming Family Business: Lamb Family, Burns Farm
Judges Special: Tom and James Stobart
Farmers Choice Award: Ian Powley
The Mike McKinley Memorial Award: Peter Bland
Against All Odds: Angus Richardson
Lifetime Achievement Award: Olive Clarke OBE JP DL FRAgS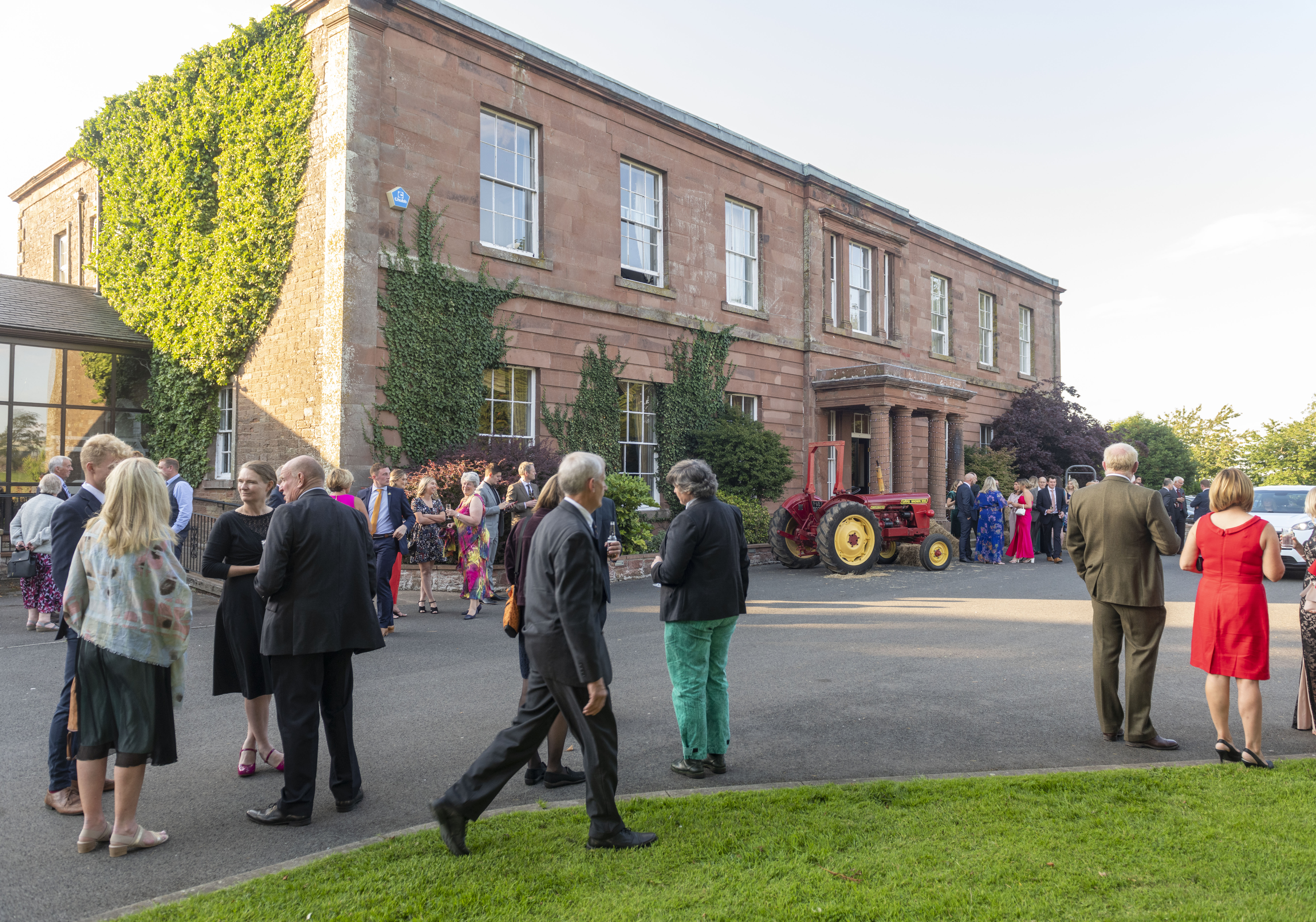 Cumbrian rural 'trailblazer' Olive Clarke was awarded the coveted Lifetime Achievement Award, sponsored by Armstrong Watson. The 100-year-old from Kraker Mill Farm, near Milnthorpe, was awarded the accolade in recognition of her life-long commitment to rural issues across Cumbria.
Olive was unable to attend the awards ceremony but her daughter, Alison Boxford, collected the glass trophy on her behalf. Alison said afterwards: "Thank you very much to all those who organised the whole spectacular evening. I understand the work involved. People were obviously enjoying the special event. As I said it was an honour to receive the award for my mother and she was so sorry not to be there in person. I have of course described the evening to her and she is looking forward to seeing the reports of the celebration in the papers. The actual award is now on display in her drawing room and looks very good. It is a super design."
Head of the distinguished judging panel, Andrew Robinson, partner and head of agriculture and farming at Armstrong Watson, said: "It gave us real pride as judges to see the wide range of successful farming and food businesses we have in Cumbria and bodes well for the future of the agricultural sector in our region."
Maureen Hodges, farming and rural affairs editor, said: "It gave me immense pleasure to see our hard-working and innovative farmers rewarded. Everyone was a winner, because every single entrant was doing their bit to make Cumbria a better place as it faces up to the challenges in the countryside."
Vanessa Sims, Newsquest Cumbria's regional group editor said: "The Cumbria Farmer Awards are fast becoming a highlight of the calendar.
"The sense of community, support and pride in the industry was clear for all to see. Every single award nominee could have been crowned the winner in their own right. The atmosphere throughout the event was electric and testament to the passion for Cumbrian farming and agriculture.
"Thank you to all the sponsors for making this wonderful event possible."