Mayor of Greater Manchester Andy Burnham is one in a long line of people who have praised farmers Margaret and John Lees of Park Farm Shop and Tearoom in Bury for their role in keeping their local community fed throughout the pandemic.
Doorstep deliveries were a lifeline at the time for many people, but there were two spectres threatening the continuing prosperity of John and Margaret's farm shop delivery business when Mr Burnham visited for an NFU meeting with local members on Friday 20 May. Namely the Greater Manchester Clean Air Zone and rural crime.
"If the Clean Air Zone had been implemented, I would have had to pay a £10 charge to deliver a 70p pint of milk to one of my loyal elderly customers," explained John Lees.
"For my business to comply I'd have to buy three new pickups at £40,000 apiece. Where do I find the brass to pay for that?"
Clearly the NFU members in the room were direct and knowledgeable, something Mr Burnham instantly recognised and responded well to. He was going to be challenged but recognised that he could also gain a lot from listening to his farmer constituents. He even offered a yearly meeting afterwards, not something we suspect Mr Burnham offers lightly given the numerous demands upon his time.
Explaining the problems and opportunities about the Clean Air Zone, Mr Burnham said: "Manchester's air was in breach of the national limits. All councils in the country received a directive from Westminster to clean the air by 2024. The only way was to use a charging clean air zone system. I never wanted to go down that route and understand why people think it was just a revenue raising scheme, but it wasn't.
"We wanted to exclude cars but by doing that we had to spread the scheme across a wider geographical area. We did not pretend it was going to be easy for commercial vehicle owners to make the change and proceeded to get as much money as we could from the Government. We got £120 million but knew it would not be enough.
"With a new instruction to clean the air by 2026, we believe this presents us with an opportunity to run an incentive scheme instead where you only upgrade vehicles if you want to using capital grants. Car owners are beginning to turn to electric vehicles anyway, so hopefully Greater Manchester will be compliant without the need for enforcement measures."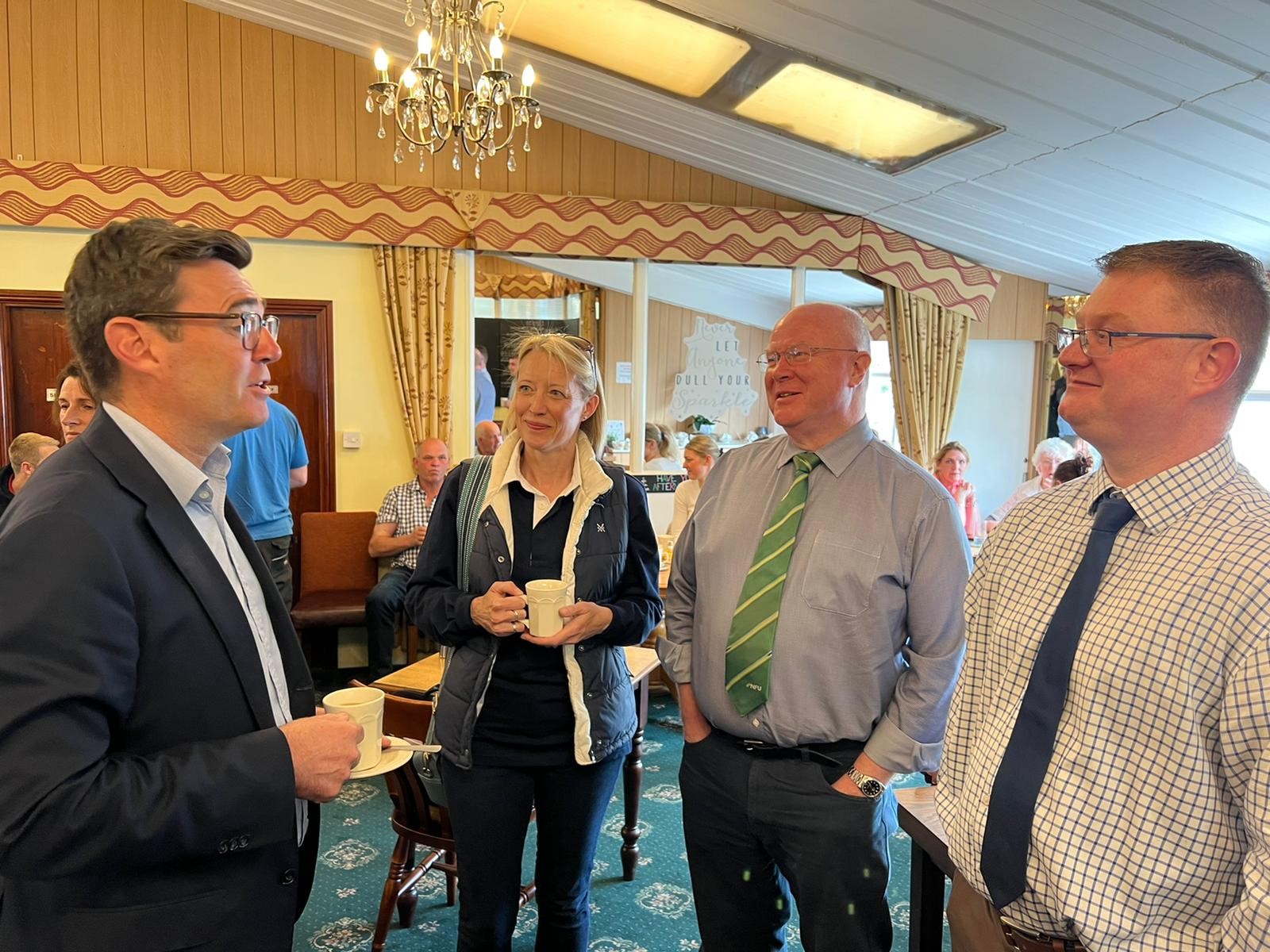 Diary clashes and last-minute postponements due to unforeseen political developments had meant NFU Lancashire County Adviser Liz Berry had been plugging away for months to get the mayor in front of her members. Following many rearrangements, here he was in person, on the top table with the NFU Director General Terry Jones, and she needed to get rural crime onto Mr Burnham's agenda.
Thankfully, Mr Burnham noticed an unlikely link between recent developments with the Clean Air Zone and crime – a new purpose for the costly enforcement cameras.
"I want the cameras to be given entirely to Greater Manchester Police. They have the worst ANPR (Automatic Number Plate Recognition) infrastructure in the country and at a stroke they would have the best. The Clean Air Zone cameras should be turned off as soon as we reach compliance. A better ANPR system would help you in your problems against rural crime."
Mr Burnham also pledged to help the NFU immediately by setting up and facilitating a meeting between the organisation and Greater Manchester's new chief constable to discuss the possibility of setting up a rural taskforce. NFU Director General Terry Jones said the organisation welcomed that offer greatly.
Closing the hour-long meeting, Mr Jones said the Government desperately needed to grasp the food resilience nettle and asked Mr Burnham to raise the issue with them whenever he got the opportunity.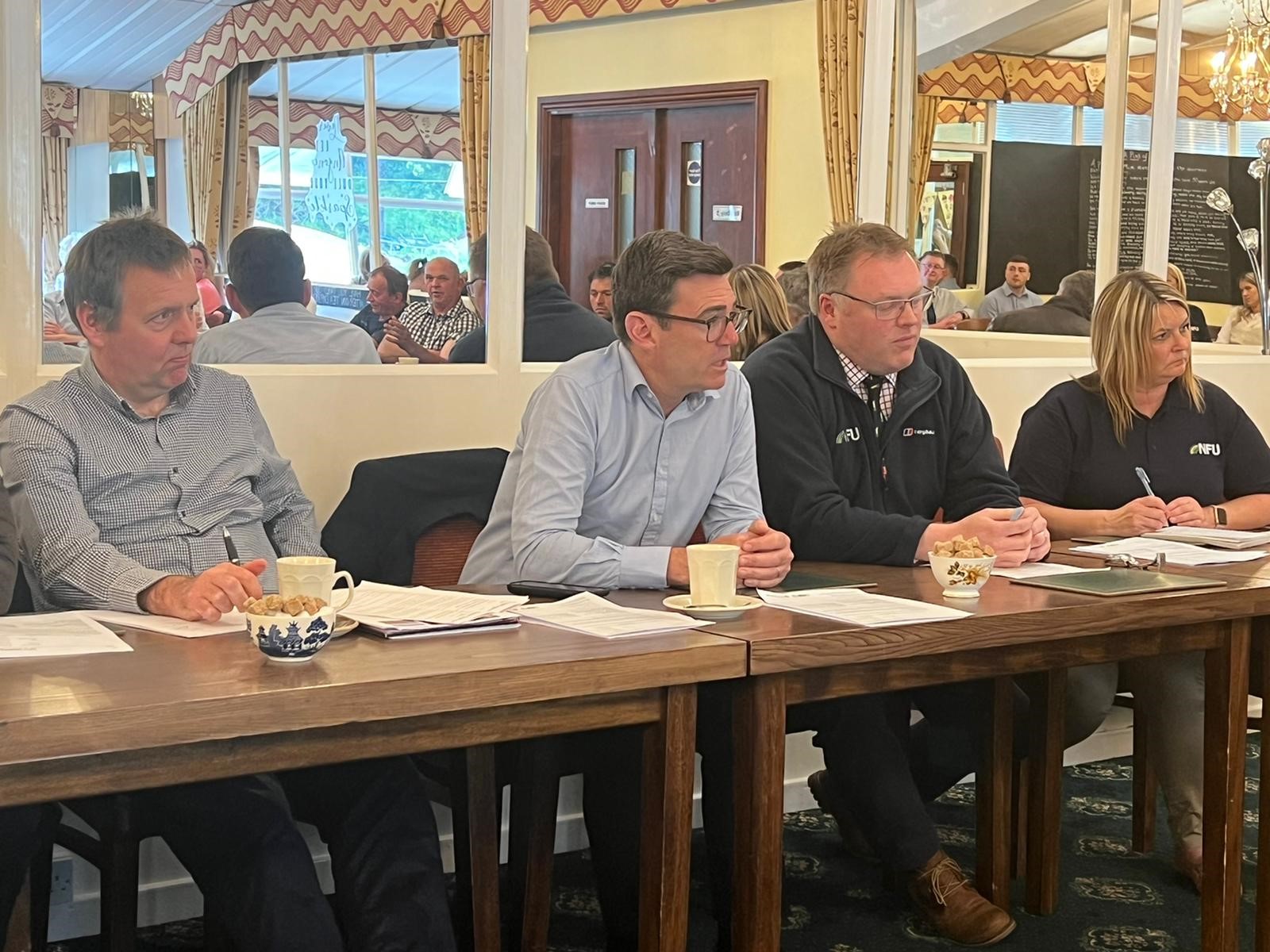 For his part Mr Burnham said he wanted to go further and was interested in local food procurement ideas.
He said: "We've made a start and I'm working with Kellogg at the moment trying to get their surplus into local food banks. I want to get more involved."
Mr Jones added: "The NFU has a good relationship with Shadow Secretary of State for Environment, Food and Rural Affairs Jim McMahon who we work closely with. We'd like you to add your power to that push for food security in this country."
Questions and comments from our membership to Mr Burnham
Will Johnson of Walkers Lower Farm in Aspull asked Andy: "I want to know what the next 30 or 40 years in farming holds for me? At the moment I would rather my young daughter came nowhere near to getting into the farming industry. I have no confidence and I don't see a future for her in the sector as it currently stands."
Andy Paton of the Birches in Turton said: "You need to concentrate on food pricing today and food availability tomorrow."
Gary Davis of Bank Top Farm in Littleborough said: "You need to make sure you source all the food for the public amenities you have control over from farms in this country. This is something you can influence straight away. We don't want to be park keepers. We want to farm and look after the environment whilst doing so."
NFU Lancashire County Chair Lisa Edwards of Gore House Farm in Lydiate said: "You can't just click a switch with farming. You need two years lead in time to change systems and your way of doing things. Farmers cannot just up production overnight. Plans need to be made now."
Important NFU outcomes from the meeting
An offer from Andy Burnham to meet with the NFU annually.
A pledge to help the NFU immediately by setting up and facilitating a meeting between the organisation and Greater Manchester's new chief constable to discuss the possibility of setting up a rural crime taskforce.