The organic forum has an exciting new team in place with lots of new ideas to ensure that organic farming is built on solid foundations. We have aspirations to champion science and innovation within the organic sector, working with natural processes to find solutions to farming problems. The three key points of the vision are:
Champion science-led innovation
The first strategic point is so important to me, championing science and innovation. By profession I am a conventional agronomist, I was brought up on an intensive vegetable farm that used large amounts of artificial crop protection products. I felt there was a better way in which to farm my land which is when I moved to LEAF marque schemes. In 1997 a supermarket buyer at the time told me I had to grow a small amount of organic produce which was a scary prospect, but we had a go and it turned out we were more successful than we first imagined. My father and I started farming organically by looking backwards and using practices from many years ago. We soon found more disease in our conventional produce than the organic produce. Being an inquisitive businessman, I began to question this and started to investigate the science behind growing successful crops and the biological side of farming compared to the chemical side I had learnt during my qualification. I have found that understanding nature is very important in all aspects of farming. This can be done through science which, in turn, can help us progress to be more successful in business and help achieve environmental sustainability.
I believe the organics sector is working hard in the development of new biological practices. For example, the biological control of aphids through the introduction of predators and maintenance of habitats and margins which can be as successful as using a pesticide. I believe many of these practices will migrate into conventional farming systems. These developments should be explored and discussed among industry experts, agricultural students, and farmers alike.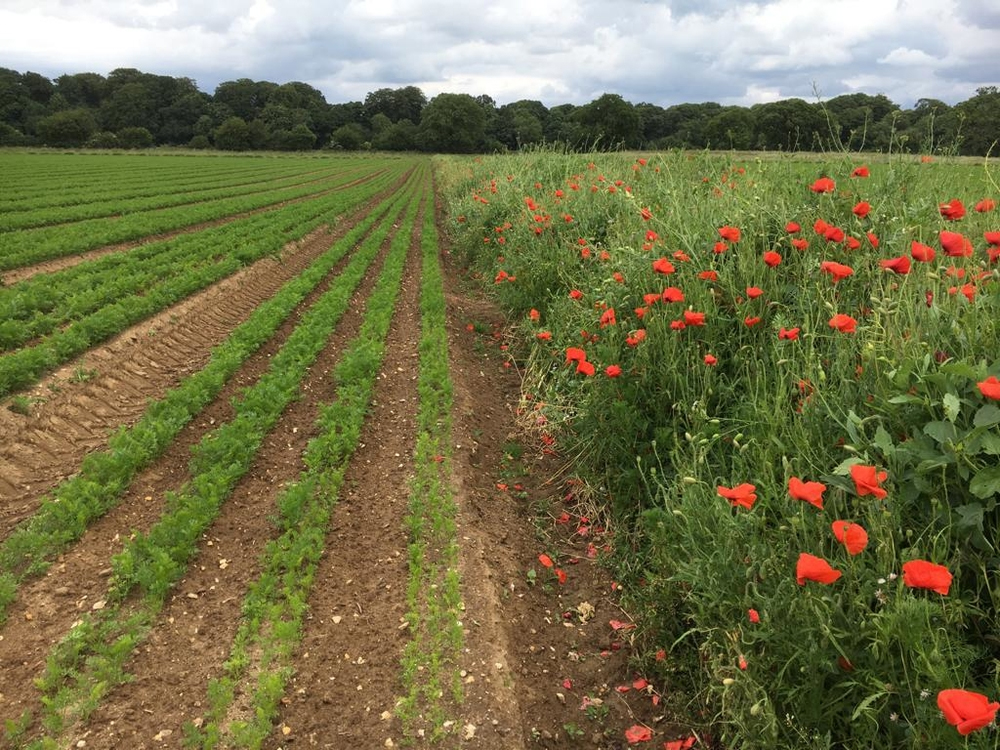 Defend and protect organic farming businesses
Organics can be ideological at times and the second strategic point is aiming to ensure the organic sector is led through commercial awareness and not this ideological mindset that sometimes organics can be seen for. The aim is to help create fairness in the organic supply chain which in turn helps to ensure that the market is supportive and stable for both existing farmers and new entrants to the industry. It is also important that the forum lobby for government policy to be aligned to suit the needs of the organics sector due to the large number of public goods found in organic farming. It is vital that we protect all of UK agriculture, however organics is only a very small part of what UK agriculture has to offer so it is important that the sector does not get forgotten about and deemed less important by government.
Over the past few months, the NFU has been lobbying hard for mutual recognition of UK/EU standards, stressing the importance of seeking mutual trade equivalence between the UK and EU. There are £250 million worth of exports and £500 million worth of import trade between the UK and EU, not gaining mutual equivalence could have detrimental impacts. We need that level of import and export balance to fulfil the UK supply and demand needs and account for seasonality. For example, in the UK we can only grow Organic carrots for 9 months of the year therefore we must import for around 3 months of the year from Southern Europe to feed the supply. Conversely the UK exports produce to those countries out of the local growing season. It works both ways. Behind the scenes we have been working with internal NFU staff to shape the NFU's vision for Elms and to ensure that its fit for purpose to support organic production.
Write to your MP on mutual equivalence
In order to make the strongest case to government, the NFU is urging organic farmers and growers to highlight the significant impacts the sector will face, without regulatory alignment on organic standards to their constituency MPs. Click here to use our lobbying toolkit.
Knowledge sharing and upskilling
Finally the third strategic vision, knowledge sharing and upskilling. It is important that we share our successes within the organic industry and beyond. To me, whether you farm conventional or organic, we are all farmers and have just chosen to farm in a different way. Neither way is right or wrong. Conventional farmers could learn from the organic systems, but equally organic farmers could learn practices from conventional farmers. We must work together to progress in the right direction. Farming faces so many challenges and why should we be fighting each other. We should be uniting and facing those bigger challenges together. Fairness in the supply chain effects both farming practices and sharing knowledge about how to achieve equality is important.
Over the coming year, whether it is virtually or if we can get out to farm, I would love to get university lecturers connected with organics showing them the current practices in organic production. This in turn will help knowledge sharing and educate them so that they can take that understanding back to students and help engage the next generation with organic farming. I would also like to get organic members onto farms again, virtually or in person, which will help to showcase the best of the best and help them to better and improve their organic business.
More from NFUonline: