With the hotter weather thousands of people have been flocking to popular rural locations and beauty spots, resulting in an increase in the use of disposable barbecues.
We not only want the public to act responsibly but we're also calling on local authorities to start issuing PSPOs (Public Space Protection Orders).
PSPOs are intended to deal with particular nuisance or problems in specific areas by imposing conditions on the use of that area to ensure people can enjoy public spaces safely.
Local authorities have the power to implement a PSPO under Sections 59 to 75 of the Anti-social Behaviour, Crime and Policing Act 2014.
A number of National Authorities have temporarily implemented a ban on the use of barbeques and open fires. Dartmoor National Park is the latest authority to introduce a ban. Some retailers have also taken disposable BBQs off their shelves in a bid to reduce the risk of fire during this prolonged period of hot weather.
Fire Severity Index – level 5 warning
The Met Office's FSI (Fire Severity Index) is an assessment of how severe a fire could become if one were to start. It is not an assessment of the risk of wildfires occurring. The FSI shows the current day's fire severity and a forecast of likely fire severity over the coming five days. The index values are from 1 to 5, which represent an increasing degree of fire severity.
The FSI is predicted to hit level 5 (exceptional) on 11 August 2022 in most of central and eastern England. This is the second time level 5 has been experienced over the past month. 
Level 5 is the legal trigger for suspension of access to 'open country'. We expect Natural England to have outline directions in place so restrictions will be activated when the FSI is exceptional.
These closures do not affect public rights of way, common land, or public roads.
Ensure you keep an eye on the FSI - Met Office, to monitor your area.
FSI review (2019)
Following wildfires in 2018, including a significant blaze on Saddleworth Moor, then Defra Secretary of State Michael Gove assured the NFU that a full review of the Met Office's FSI would be carried out.
This was due to the FSI map indicating FSI level 4 (very high fire severity), meaning that public rights of way and Countryside and Rights of Way land were still open as open access land can only be closed when the FSI reaches level 5. The NFU understands that this review was carried out in 2019 but is yet to see the outcome of that review.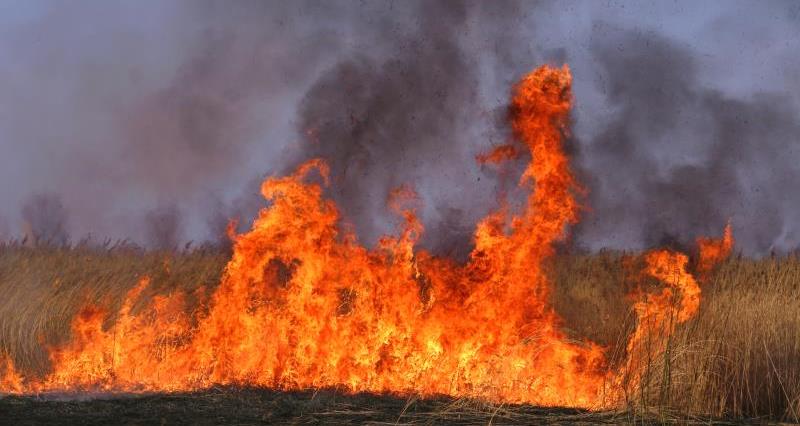 Above: A field set alight during dry, hot weather.
NFU land management chief adviser Sam Durham said:
"With such dry conditions underfoot, we are urging visitors to the countryside to take extra care to avoid starting a fire. A dropped match or smouldering barbecue is all that's needed to start a serious blaze in our fields. I would urge everyone to follow the new look Countryside Code.
"The NFU would like to see local authorities start issuing Public Space Protection Orders that deal with problems in a specific area by imposing certain conditions such as a ban on naked flames.
"We are also calling for the full results of the Fire Severity Index review to be published which was carried out following the wildfires of 2018."