We're calling on the government to act now to close the digital divide that is keeping farm businesses and the rural economy from reaching their true potential.
Survey results
Respondents to the survey stressed that rural areas should have access to the same level of digital service and infrastructure as urban areas, including better speed, coverage and reliability. This reinforces the NFU's call for government to prioritise digital connectivity in rural areas as part of its plan to level up the country.
"If the government is serious about levelling up, it needs to ramp up efforts to bridge the digital divide now."
NFU Vice President David Exwood
Broadband
Our survey of more than 840 NFU members showed:
38% had the broadband speeds their businesses needed (2% worse than in our 2021 survey)
30% had broadband speeds of less than 2 Mbps 
24% had super-fast broadband speeds (+24Mbps), up 4% from last year, but some members reported prohibitive costs for installation.
The findings on broadband speeds echo the past two years of our survey. This shows a significant stall in progress in the past few years, after the proportion of NFU members reporting very slow speeds had previously halved between 2015 and 2019.
Mobile
Our survey of more than 840 NFU members showed: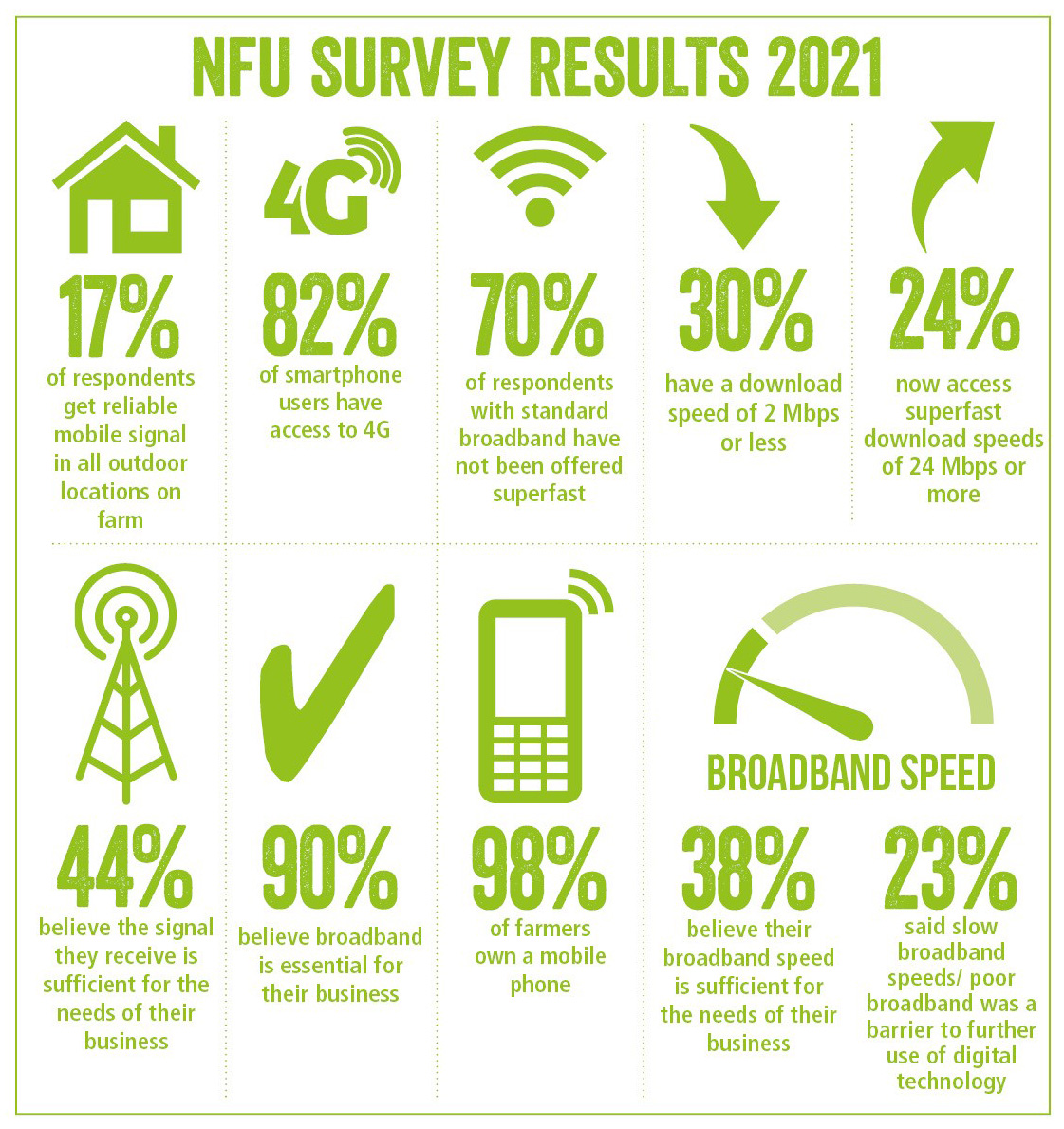 44% had acceptable mobile signals (2% worse than in our 2021 survey)
17% had reliable mobile signals across whole farms – important for safety (5% less than in last year's survey)
82% were able to access 4G on their mobiles (down from 84% in 2019).
Read a summary of the survey results: NFU 2021 broadband and mobile survey summary
Levelling up
Improving connectivity was an important manifesto pledge from the Boris Johnson government as part of its Levelling Up agenda, with an initial aim of bringing gigabit-speed broadband to all UK homes and businesses by 2025. 
That figure was downgraded to 85% of the UK in a recent White Paper, with the remaining 15% promised by 2030.
NFU Vice President David Exwood said poor digital infrastructure means farmers are missing out on productivity gains during a critical period of spiralling costs.
"The survey shows that very little progress has been made, despite government promises to level up the country," he said. "Reliable broadband and mobile connections are vital to modern food and farming businesses, impacting everything from accessing data and adopting new technologies to communicating with suppliers and keeping workers safe. 
"Poor connectivity puts our farm businesses at a disadvantage, ultimately preventing us from increasing production of sustainable, affordable British food for markets both at home and abroad. If the government is serious about levelling up, it needs to ramp up efforts to bridge the digital divide now."
NFU mobile and broadband policy asks
The results of the survey show that the current level of broadband and mobile access has not progressed greatly over the past 12 months. This presents serious challenges to farm businesses that are trying to future-proof their businesses and work within an increasingly online world.
Government must deliver on promises
The government is aware of the challenges faced by rural areas and has pledged to deliver 100% nationwide gigabit-capable broadband coverage by 2030.
While we welcome the commitment to delivering 100% coverage, we are disappointed that this goal has been pushed back by 5 years from the original 2025 date set out in the 2017 Conservative Manifesto.
Furthermore, the current rate of increase does not inspire confidence that the 2030 deadline will be met without significant intervention from government and industry combined.
Prioritising the Shared Rural Network
The Shared Rural Network must remain a priority and be entirely complete by 2025. This is so that all communities can have access to a good mobile signal, which can also be used for mobile broadband as a working solution while communities wait for fibre broadband.
Equal focus on different types of broadband
All government broadband schemes must be applicable to all types of broadband and not just fibre. Fibre can often be extremely expensive and often impractical to get to rural locations.
There are solutions that are rural-proofed including mobile broadband or fixed wireless broadband which can offer decent broadband speeds and are not as cost intensive to install as fibre. This will also help the government achieve the goal of 100% gigabit capable coverage by 2030 without rural areas being the last to be upgraded.
Up-skilling and training
Rural and agricultural-specific digital skills training must be offered widely and supported in government skills initiatives.
With many farmers and business owners not having the knowledge to make best use of increasing speeds and new technologies, the skills gaps leave huge areas of opportunity for productivity increases.