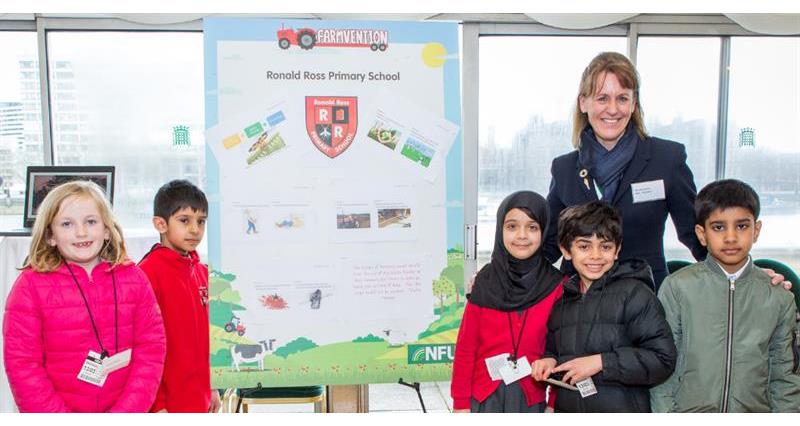 Pictured above: NFU President Minette Batters with Afeefa Haroon (third right) and classmates from Ronald Ross Primary School
Ronald Ross Primary School, London, has been named the NFU's Farmvention champion for an ingenious design for a tractor of the future.
The winning entry, by eight-year-old Afeefa Haroon, was an eco-friendly drone zip line that protects soil structure by sowing, maintaining and picking the crop from above, removing the need for heavy machinery.
The grand final took place in the House of Commons on 13 March where nine winners chosen from over 1,000 entries showcased their designs for the chance to be named overall champion and win the grand prize of having their school turned into a farm for a day.
The Farmvention competition challenged primary school children to use Science, Technology, Engineering and Maths (STEM) subjects to design a tractor of the future, create a healthy British snack product, or create an environment for laying hens.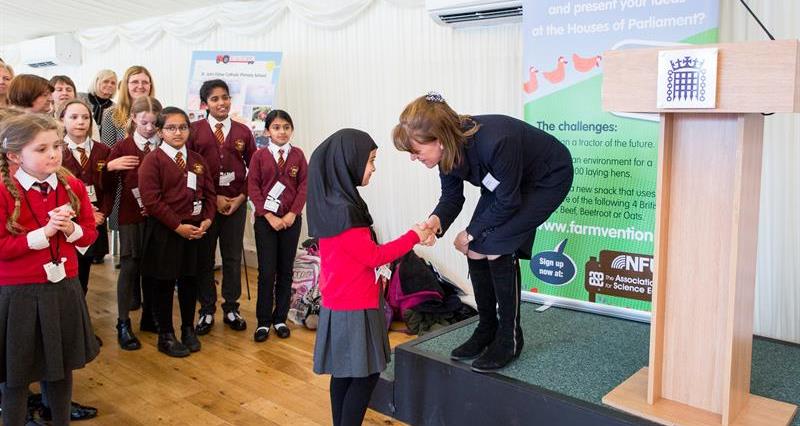 NFU President Minette Batters said:
"The level of detail, ingenuity and resourcefulness in each design was truly staggering, and the pupils' scientific and technological knowledge really shone though as they talked about their projects.
"Ronald Ross Primary School's entry identified some of the biggest challenges farmers face on a day-to-day basis, such as worker shortages, soil compaction and energy usage, and provided solutions.
"I'm so glad that this competition has not only bridged the gap between children and their food, but opened the eyes of young people to the opportunities the farming industry offers."
Farmvention champion Afeefa Haroon said:
"Farmvention has been really fun. My favourite part was making the model farm with the zip line. The zip line is good because it can do the farmer's work without squashing the soil. Winning the competition makes me feel really proud."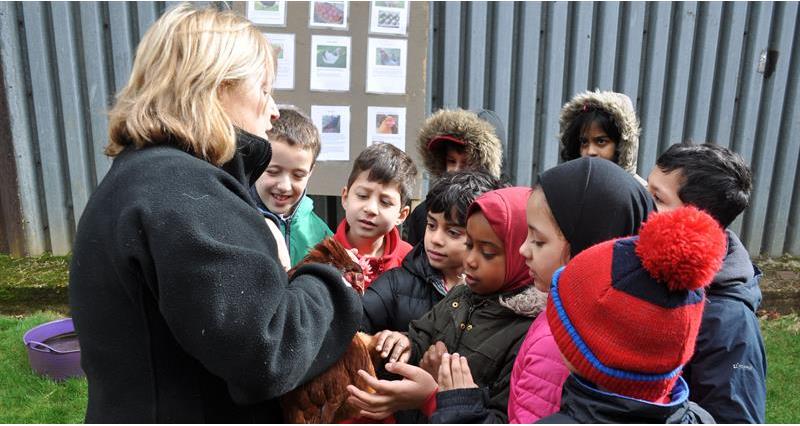 Children from Ronald Ross Primary School at their Farmvention winners' farm visit earlier in March
Ms Bains, a teacher at Ronald Ross Primary School, said:
"Our pupils didn't know much about farming before we took this project on so it was great to see their knowledge develop over the process. Afeefa's entry was so impressive because she really thought about the problems farmers face, and then she came up with solutions.
"It's so important that children, especially those who grow up in urban areas, are in touch with the countryside. One of my highlights was the farm visit and seeing the children running on this great open green field – it was amazing to see.
"The children have enjoyed it immensely and they're so excited that the whole school is going to be turned into a farm for a day."
Other prizes for the nine winning schools included fully funded farm visits, chef visits and £600 to spend on robotics products for the school.