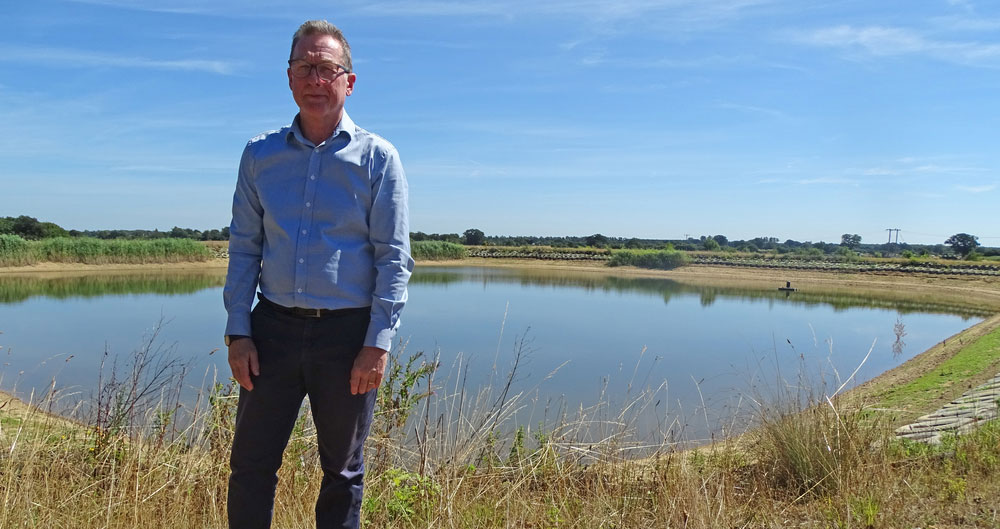 The NFU's national water resources specialist Paul Hammett looks at the challenges facing farmers and growers in securing reliable water supply and a cross-party initiative that aims to provide solutions to the problem in East Anglia.
He writes:
The weather has once again brought challenges for farmers in East Anglia. We haven't seen the extremely high temperatures we experienced last year, so vegetable growers have largely kept on top of meeting the irrigation needs of crops.
But farmers who rely on abstracting water from some rivers in Essex and Suffolk, such as the Stour, have faced irrigation restrictions and it is clear that significant winter rainfall is needed across East Anglia to recharge our depleted aquifers in time for the 2020 cropping year.
It all helps to emphasise that a secure supply of water is essential for fruit and vegetable production. Over the years, farmers have become increasingly adept at ensuring that crops receive the right amount of water in the right place at the right time. But field vegetables rely on water from both abstracted sources, like rivers and boreholes, and natural rainfall. Increasingly irregular rainfall patterns, in terms of both intensity and frequency, can only lead to greater dependence on abstraction.
Storage is key. We have seen a steady growth in the network of farm reservoirs across Norfolk, Suffolk and Essex, as farmers successfully capture surplus water and store it for summer use, when abstracted supplies are scarce.
But the weather events of last year tested this system to the limit and there is an increasing recognition that future extreme weather events caused by climatic change might become just too big for individual farmers to cope with on their own.
Farmer collaboration with neighbours, and perhaps with other users and sectors, will be increasingly important in the years ahead.
Water Resources East
The NFU has identified water management, both too much and not enough, as a top policy priority and is increasingly focusing on understanding long-term agricultural demand for water and how we meet it.
We are therefore delighted that Water Resources East (WRE) has been established as an independent not-for-profit organisation, five years after it was formed by Anglian Water. The pioneering initiative brings together agriculture, energy, environment, local authorities, and regulators to plan future water resources across East Anglia for the next 50 years.
The NFU has been pleased to take a seat on the WRE board of directors to ensure farming's requirements are recognised when future decisions are taken about transferring needed water into the region and the infrastructure that will be necessary to move and store it. Lindsay Hargreaves occupies the NFU's seat on the WRE board. Lindsay is chair of the Lark Abstractors Group in west Suffolk and managing director of Fredrick Hiam Ltd based at Brandon. He is well qualified to represent the farming community.
NFU membership of WRE gives us important access to technical specialists and water resources planners that can help shape policies on a fair share of water for food production. Our discussions within WRE are at an early planning stage but already we have been able to better understand the long term plans of Anglian Water and Essex and Suffolk Water and how farmers might benefit from schemes such as bulk transfers of water from the north.
We are also beginning to explore how farmers might be able to share water, for example along the same river. Current abstraction rules are understandably tightly drawn to protect fish and river species, as well as the existing rights of other water users. But farmers are regularly frustrated by being unable to capture and use large volumes of precious fresh water that runs out to sea.
We hope to be able to build on the abstraction licensing flexibility developed with the Environment Agency during the 2018 agricultural drought to develop 'catchment rules' where shared use can be matched to current river flows, and so manage water more dynamically and sustainably.
All this will take time but, through the NFU and local abstractor groups, farmers have been quick to understand the opportunities that WRE can potentially offer.
More from the NFU: