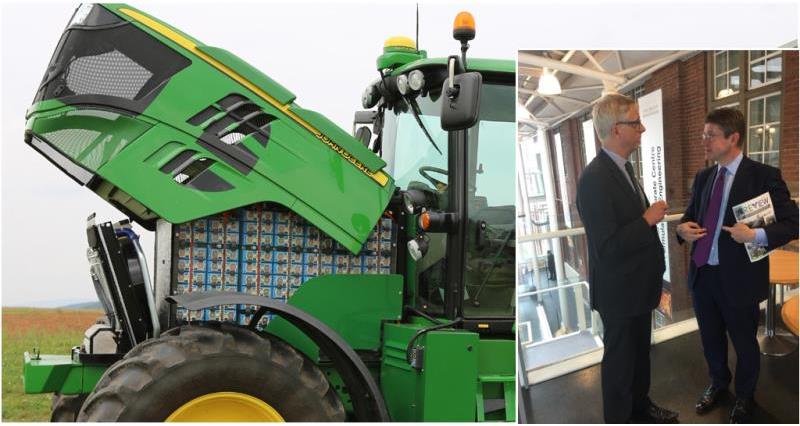 NFU renewables adviser Dr Jonathan Scurlock made the case for agricultural innovation in the government's emerging Industrial Strategy when he met the business secretary Greg Clark at the University of Birmingham this week.
Accompanied by junior ministers Claire Perry (climate change), Margot James (small businesses) and Lord Prior (industrial policy), plus West Midlands metro mayor Andy Street and Lord Willetts of the Resolution Foundation, the Secretary of State spoke about the government's timetable and next steps for the Industrial Strategy Challenge Fund, as well as possible sector deals.
Mr Clark also launched the government response to an earlier BEIS/Ofgem call for evidence on a Smart Flexible Energy System.
A £246 million 'Faraday Challenge Fund' will boost research and development of battery technologies, he said, including a £45m National Battery Manufacturing Development facility. Funding of £25m will also be available for connected autonomous vehicles in the non-road sector, bringing driverless technology and increased productivity to farming, construction and mining.
Dr Scurlock was invited to represent the NFU both nationally and regionally at the event, networking with BEIS officials and other stakeholders from the Renewable Energy Association, the Advanced Propulsion Centre and elsewhere.
In the Q and A session, he asked the Secretary of State about the prospects for "vehicle-to-grid" technology (two-way battery charging), which could incentivise uptake of electric agricultural vehicles with reductions in both running costs and carbon emissions.
Discussions with officials and ministers also focused on the prospects for static battery energy storage in the agricultural economy. The picture below shows NFU members visiting a battery storage site last week, adjacent to a solar farm in Somerset.