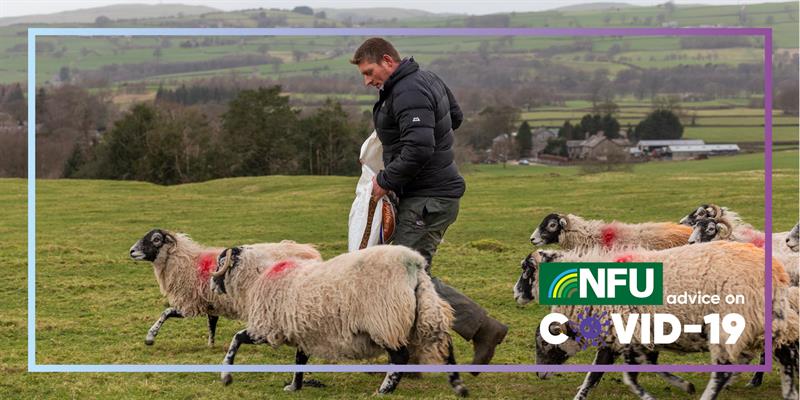 3 actions to take now | Your family and home | Your business | Your key contacts | Animal health and welfare contingency tips
Now, more than ever, it is important to give thought to your contingency plans on farm. Working with the farming charities and SAC in Scotland, the NFU has produced a checklist to help farmers look at their businesses and make a robust plan if they, their families or key members of staff become unwell during this pandemic.
The coronavirus crisis has affected our whole way of life, and it has led to significant changes to the food supply chain and the ability of farmers to feed the nation. Working closely with the Farming Help charities – FCN, RABI, RSABI, Addington Fund and Forage Aid – the NFU is here to support farmers throughout the coronavirus crisis.

Do an impact assessment
You know your farm the best, ask yourself 'what if that happened?' and follow that up with 'so what?' Doing this problem-solving exercise is an essential part of contingency planning for business continuity. Writing your answers down will help form your plan for if you are unwell or unable to work.
Work on the farm usually falls into the three broad categories of the 'must do', the 'nice to do' and the 'this can probably wait.' It is worth considering writing these down, however obvious they appear to you. Then list them in priority order –this list could being used by someone who doesn't know your farm as well as you do!
If you feel like any issues that arise from your impact assessment need to be raised with with the NFU or government, you can use the NFU's COVID-19 business impact service.The NFU will log this information and use it in an anonymised format to flag the key issues agriculture and horticulture are facing to government on a daily basis. This information gathering service will assist the government in building a dynamic and up-to-date picture of the impact that the COVID-19 outbreak is having on farmers and growers.
Talk to your team
Stay in touch with those around you. This will include your friends and family, neighbouring farmers and those on the key contact list. If you are ill or in isolation, keeping others informed will ensure that help can be provided. By ensuring that others know your wishes, business continuity is made so much easier. It is also worth looking with fresh eyes at your will and ensuring everything is up to date.
Ask for help
Even though people may not be able to congregate as normal, there is still much that people can do and there is a national upsurge in community spirit. Farmers need to make best use of this and not be afraid to ask for help in their time of need. Farmers' organisations are there for you, farming charities and your local community.
---

How will you buy essential shopping and medications if your household must self-isolate?
Do you have a local support group in your area?
Do you have enough heating oil and gas?
Have you agreed a plan with your family of how things will work if anyone must self-isolate?
---

Have you prepared a list of payments that need to be made to suppliers?
Have you considered stocking up on inputs to avoid possible supply problems? The NFU is advising farmers to prepare for harvest. If you are worried about part availability, act now and order items ahead of time to avoid any issues in the future.
Are feed rations, livestock medicine and sprays and chemicals accessible to others?
Are forthcoming supply commitments (e.g. grain movements, livestock) clear?
What are the things that are obvious to you, but not to others? Write them down.
---

If you cannot work, who will make key business decisions?
Who will take responsibility for staff- their duty of care and planning their work?
How will staff get paid, and who will sort this out?
Have you got a call list of all your regular contacts, customers and suppliers in one easy-to-find place?
Can you agree reciprocal staffing cover with a neighbour? Update your plan with their details.
---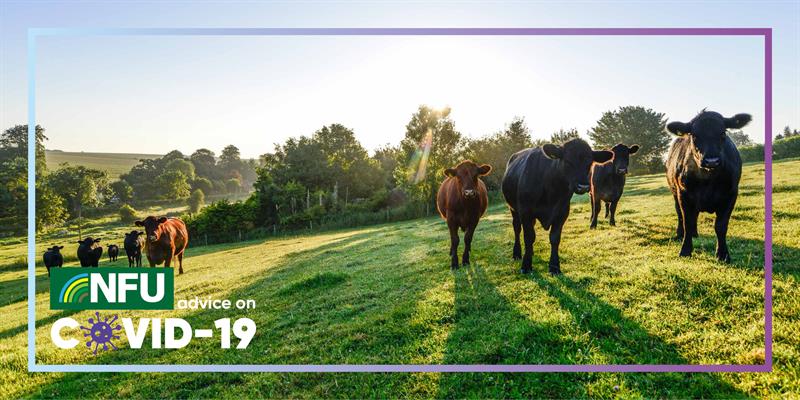 Preparing your animals
Do you have an existing inventory list of all your farm animals along with their location? This is important if you have any rented grazing or housing away from your main holding. Ask yourself, is there someone who can keep regular checks on those animals?
Is your "trusted person" able to carry out your animal health and welfare requirements? Ask yourself the following questions:
Where is your farm medicine book and farm health plan?
Do you have a system to identify which animals have been treated by what medicine, and therefore what withdrawal periods are being worked to?
Could your trusted person use them to identify and ensure that any ongoing veterinary medicine treatments are being given to the right animal, in the right way, at the right dose and at the right time?
Is your trusted person capable of administering a veterinary medicine?
Can your trusted person access your medicine cabinet?
If you have any doubts about the competence or experience of your trusted person, set up a telephone conversation with your farm vet and trusted person so that the vet can make sure that administration protocols are understood and can be properly followed in your absence.
The NFU has an exotic disease on-farm contingency plan available for members. Whilst this has been written to help members cope with exotic diseases in animals, it provides useful guidance.
Cleaning and hygiene
To prevent the spread of COVID-19 you do not require any licenced disinfectant. Basic principles of cleaning and hygiene are good enough around the farm.
Frequent handwashing is important to slow the spread of COVID-19. It is vital that all visitors have the ability to take the appropriate personal hygiene steps to control possible spread of coronavirus. Ensure visitors have access to hot water, soap and disposable paper towels.
Alcohol hand gels will also work to prevent the spread of COVID-19. Think about providing these in areas where people touch and handle things the most. For example, at frequently used gates and doors.