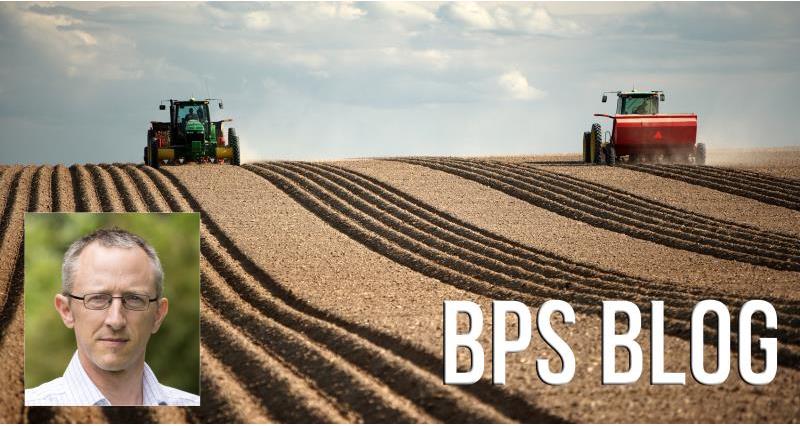 The NFU's senior BPS adviser Richard Wordsworth provides some timely reminders on the 2018 application process.
He writes:
With less than a week to go to the 15 May BPS deadline for 2018, we continue to see an increase in enquiries here at NFU HQ, Stoneleigh. I hope you and your neighbours have at least started the application? Perhaps it would do no harm in just checking up on those that may not be as organised as you, or where, perhaps, circumstances have changed and BPS is not at the forefront of their minds at this time. Sadly each year we see a number of claims submitted late - make sure you or those around you do not fall into that group. The RPA last week contacted many of you to remind you of the impending deadline either via postcard, text or email. If the claim had been submitted in-between the RPA organising these communications and receiving them, just double check the claim has reached the RPA. Whether you have completed your claim or not, there is at least one message below that will help you.
Not applied yet - apply now!
It's only a few days until the 15 May application deadline, please do not leave it too late to apply - late applications get a 1% per working day late fine. Also remember that supporting paper documents need to be with the RPA by 15 May, too, and they cannot be emailed.
Everything you need to apply is online at www.gov.uk/rpa/bps2018 including this year's scheme rules and what to do about hedge and mapping issues. You will also find details of the RPA's drop-in centres for 2018. In terms of opening hours, they will be open during normal office hours (8.30am - 5pm). That excludes weekends and, as a change from previous years, are only open until 10pm on the evening of 15 May.
If still working away online please also check for downtime to avoid any issues with the Rural Payments service. You'll find planned maintenance time here.
If you need help, remember as an NFU member you have access to our excellent staff at CallFirst who are used to answering questions around BPS applications issues. Give them a call on 0370 845 8458, Monday to Friday, 8am to 6pm.
Finally, this might sound like a broken record, but in the rush to complete the form and submit it, please, please, do double check your BPS and EFA claims before submission. If applying online, print off a copy of the claim before submitting and pay particular attention to the BPS claim and the areas shown in column C8 of the field data sheet and the summary total. Are they what you expected? Equally for EFA, please check the options you have applied for and the summary of the EFA claim - again, is this what you expected to see?
Claim submitted? – Do one final check for me
I know you may have checked and re-checked the claim, but please carry out one final check, or at least clarify any doubt you have with the information on the application form or what you need to submit is right. Each year we come across cases where a little more care when the application was being put together would have avoided adverse financial impacts later on. There is still time; here are some points to consider:
Rules - Was there anything you did not understand that you want to double check before it is too late? Did you understand your greening requirements or exemptions or the young farmer evidence requirements?
Supporting documents - Did you send to the RPA what was required? e.g. young farmer scheme/RLE1 forms covering mapping/hedge changes/organic land certificates etc.
Copies of documents – Have you a 'carbon copy' of everything sent to the RPA (hardcopy/electronic copy saved on PC showing time and date of submission) in case the RPA seek clarification on an element of the claim made?
Post - If you have posted documents, have you got a receipt for them (is it kept safe)?
Hand delivered - Do you have a receipt for what you handed in and is it in a safe place?
Late changes after the 15 May?
If time is running out in the days running up to 15 May, please remember you can make late changes to a claim submitted by the 15 May up to the 31 May without incurring a penalty. If you need to make changes to a claim already submitted, please read the BPS guidance first and then ensure your clear instructions are put in writing to the RPA. There are some specific rules to follow if you submitted an online claim.
That's it for now, next time we will cover other reminders around what you signed up to when you claimed BPS and getting paperwork in order before harvest.