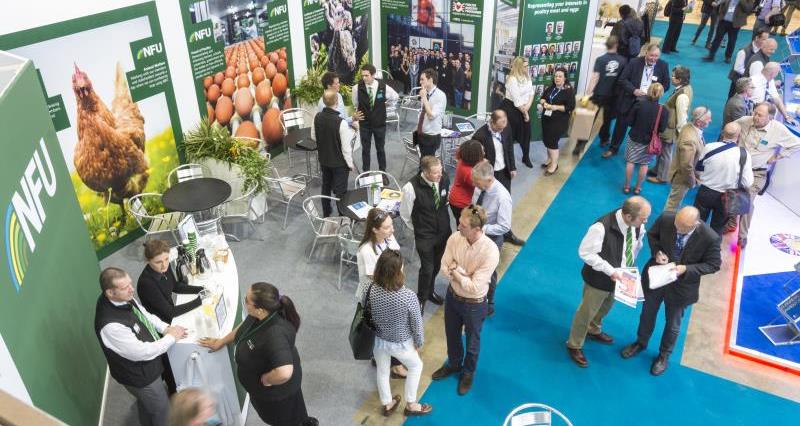 Access to labour across the supply chain was one of the key talking points at this year's British Pig & Poultry Fair, as the event's well-attended business forums provided opportunities for producers and processors to hear expert advice on the road ahead.
NFU poultry board member Duncan Priestner, Mark Williams, chief executive of the British Egg Industry Council and Richard Pearson, head of agriculture at Chippindale Foods opened the seminar programme with a forecast for the UK egg industry, currently 86% self-sufficient with the opportunity to replace imports. According to Mr Pearson, attention to detail from staff could add £1-£2 income per bird over the course of a flock, so recruiting and retaining effective workers is key.
The poultry meat outlook session, led by the NFU's chief poultry adviser Gary Ford, Patrick Hook, director of PD Hook Hatcheries, and John Kirkpatrick, agriculture manager at Tesco, emphasised the role that new technology and alternative forms of production could play in providing efficiencies as price pressure throughout the supply chain is expected to remain an issue for poultry meat producers.
Mr Kirkpatrick reaffirmed Tesco's commitment to the British poultry sector, emphasising the need for robust science and evidenced fact to portray positive messages to British consumers. "The standards [the poultry industry] works to are world leading," he said. "We are the envy of many, globally. Ultimately, we all serve our customer and need to focus on that customer."

NFU Poultry Industry Programme: Engaging The Next Generation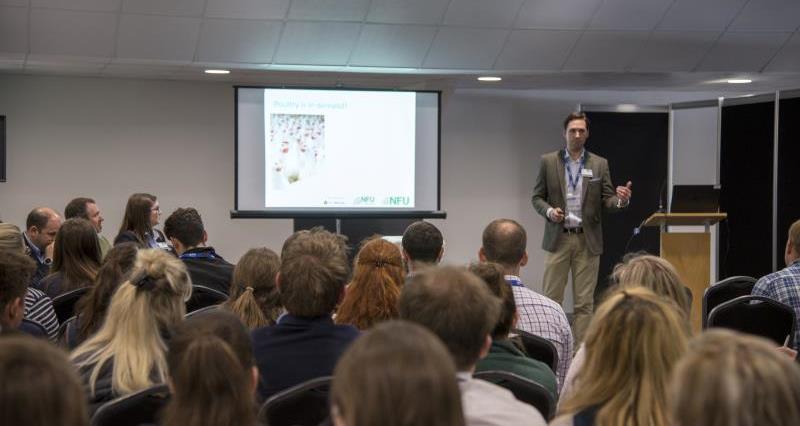 More than 60 people attended the NFU Poultry Industry Programme's next generation seminar highlighting the variety of career opportunities the poultry sector has to offer, including farm management, poultry technicians, hatchery management and more.
In addition to conventional roles on farm, many PIP participants also have jobs in the wider industry that are vital to the poultry sector, such as vets, nutritionists and feed experts.
PIP participant James Smaldon (pictured speaking, above) said:
"The poultry sector is an incredibly exciting sector and there are so many opportunities available for young people. Whether you come from a farming background and want to be hands-on down on the ground, or if you are a scientist interested in genetics – there is something for everyone.
"As an industry, we are embracing technology and innovation so there is no shortage of exciting new developments coming down the pipeline to make the sector even more high-tech.
"As a group, we wanted to highlight what is on offer and get people excited about joining the poultry industry. The Poultry Industry Programme has given us a fantastic platform to do this and I would encourage anyone who has just started their career in poultry to consider applying for the next cycle."
NFU poultry board member David Speller, who attended the seminar, said:
"As a farmer and business owner, there are so many skills that are incredibly important to how my business is run. To run a successful business, you need people with managerial, technical, negotiating, communications or technological experience, to name a few.
"I am passionate about technology and innovating my business, and the people with the right expertise who can help me do that are invaluable.
"That is why I wanted to support the Poultry Industry Programme today because making our sector attractive for the next generation is imperative to ensuring we are sustainable and fit for the future."
New poultry apprenticeship standards
In a bid to create a new pipeline for workers, the NFU, the British Poultry Council and Poultec launched a new apprenticeship standard at the fair, placing greater emphasis on all-round development to shape successful workers for the future.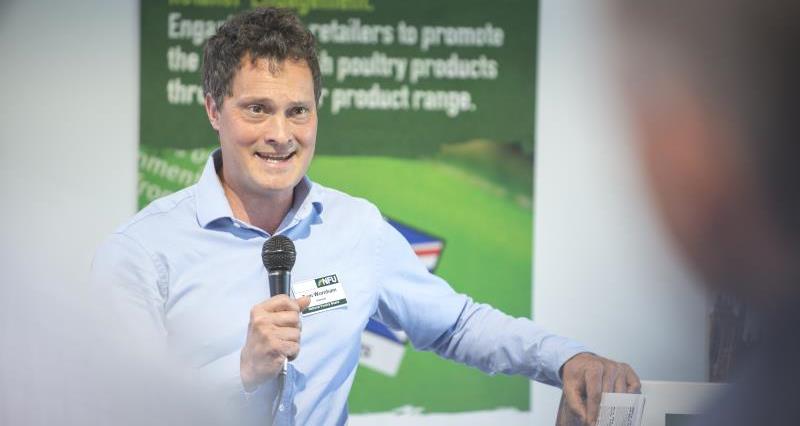 At the launch, on the NFU's stand, NFU poultry board chairman Thomas Wornham (pictured above) said:
"The poultry sector is an incredibly rewarding, innovative sector that can offer the next generation a fantastic career. These new apprenticeship standards will play a huge role in attracting new talent to our sector, and allow us to develop our skills. Apprenticeships offer farmers an excellent way to recruit new people and develop their skills, and ensure farm businesses can continue to be productive, profitable and progressive."
Watch an overview from the show:
BFREPA seminar: Research into economic and welfare merits of single- and multi-tier housing systems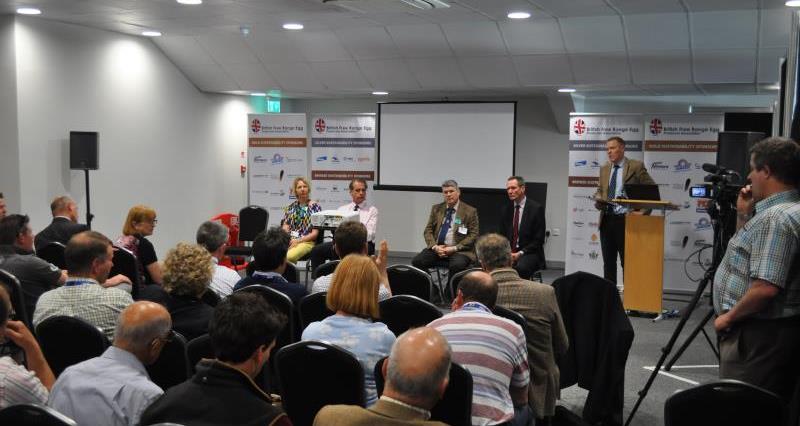 The panel takes questions from the floor at the BFREPA seminar
A seminar hosted by the British Free Range Egg Producers Association (BFREPA) revealed the findings of a study examining the economic and welfare merits of single- and multi-tier systems, the first piece of independent research of its kind to be carried out in the UK.
Funded by the Scottish Government, the Scottish Rural University College and ADAS worked with 42 flocks over a 12-month period. Scientists looked at egg production, mortality, feather cover, keel bone damage, foot condition and ammonia. They examined how shed type, bird age, breed, flock size, shed age and the presence of perches affected performance.
Hens housed in multi-tier sheds laid slightly more eggs, boosting the system's economic credentials, but being afforded more freedom of movement to different levels of the shed resulted in a higher prevalence of keel bone fractures and deviations.
In flat deck sheds, keel bone fractures were lower but mortality was shown to be higher during the study. No conclusions could be drawn on the reason for higher mortality.
BFREPA chief executive Robert Gooch said:
"The results vary far more from shed to shed than they do from system to system and confirms what producers already know; every flock performs differently.
"It is clear that there are advantages and disadvantages to both systems and the essential component to ensuring high standards of hen welfare is good stockmanship, regardless of a producer's choice of housing system."

See more pictures from the event:
Export trade critical for buoyant pig sector
In the pig sector, producers and processors are enjoying profitable times, according to Mick Sloyan at AHDB Pork. A successful marketing campaign on the healthy attributes of pork fillets and loin have boosted consumer demand, yielding a £6.43 return on every £1 spent, and AHDB has further plans for a TV campaign in September.
Ed Barker, senior policy adviser at the National Pig Association, reported that export trade has remained buoyant due to the weak pound, and would be critical to the industry after Brexit. Some 70% of UK pork exports go to the EU – so trade deals will be extremely influential. "I believe an EU trade deal will come ahead of all others, but the Irish border will define Brexit," he said.