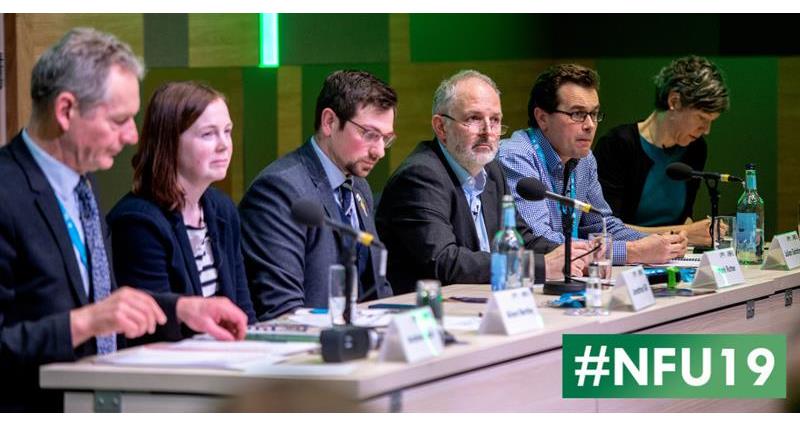 "The robots are coming,". That's what members were told at the Game Changing Innovation workshop session at NFU conference.
The technological landscape is constantly evolving. In order to be more competitive and meet the needs of their customers, farm businesses should look to the opportunities presented by being early adopters of new tools and practices.
Delegates heard from Mark Rutter, Professor of Applied Animal Behaviour, Harper Adams University, whose work looks at how an understanding of the behaviour of farm animals can help improve their production efficiency as well as their welfare, and the role that precision technologies can play in promoting sustainable livestock production.
He spoke about the use of sensors in dairy cattle that help farmers and researchers spot potential health challenges in cows well before they present visible symptoms. Professor Rutter discussed the role of 3D cameras in monitoring body condition, bolus sensors, ear, neck and leg sensors, or the' cow's Fitbit', that can give detailed information. Researchers have discovered that cows with Johne's spend less time lying down during peak lactation and motion detectors can anticipate mastitis.
"Gait sensors can detect lameness in what the vet said was a healthy hoof but it could be spotted by infra-red cameras, helping us pick things up earlier. But these things are not there to replace the skills of herdsmen," said Prof Rutter.
Dr Alison Bentley is director of genetics and breeding at the National Institute of Agricultural Botany (NIAB) in Cambridge, and leads a 40-strong team of scientists working across a wide range of applied crop genetics and plant breeding projects. Her work is focused on understanding the genetic control of complex crop traits and in the application and integration of new breeding technologies for crop improvement. At NIAB, Alison leads the exploitation of novel ancestral genetic diversity for wheat improvement. Dr Bentley said: "We can prove that something works in the lab very quickly, but we can't take it any further. There has to be an enabling regulatory environment to provide commercial solutions."
Harper Adams University researcher Jonathan Gill is best known for his innovative work as co-developer of the 'Hands free Hectare' which looked at whether a field could be ploughed, sown, weeded and harvested without direct human intervention. Three years ago everyone said that the 'Hands Free Hectare' would be impossible, but now Mr Gill would like to see the world's first hands free farm.
The team made a point of using standard agricultural machinery that had been adapted to the task. Mr Gill said: "It is a small robot solution, so there is no compaction. Robots can operate in a swarm, kind of like the Red Arrows, all running around in our fields."
The session chairman, NFU Director Andrew Clark made the point that all the machines and the hardware have to be able to speak to one another for these systems to work effectively.
Managing Director of Rezare Systems, Julian Gairdner's career in agriculture spans more than 25 years with the past decade focused on digital and data. He has spent many years working in New Zealand, and is working with AHDB on an industry code of practice for handling farm data. Many farmers are nervous about sharing their data with others, they want to know it will be used and stored properly. But Mr Gairdner said that the Netherlands and Scandinavia were streets ahead of the UK in this area and their farmers were less worried about sharing data and more excited about the possibilities that it offered their businesses.
NFU Head of policy services, Dr Andrea Graham, who wrote the conference report, The Future of Food 2040, concluded: "There are significant challenges in all sectors and systems producing food of the quality and quantity required in an environmentally and economically sustainable way and meeting the needs of society. The work we have heard about today demonstrates just some of the wide range of solutions that will be needed to ensure our crops and animals can be farmed productively, profitably and sustainably. The key is to take scientific knowledge and technological advances, combine them with practical expertise and experience, and turn them into commercial practice at significant scale."
Watch: Questions and answers with the speaker panel
More from #NFU19: