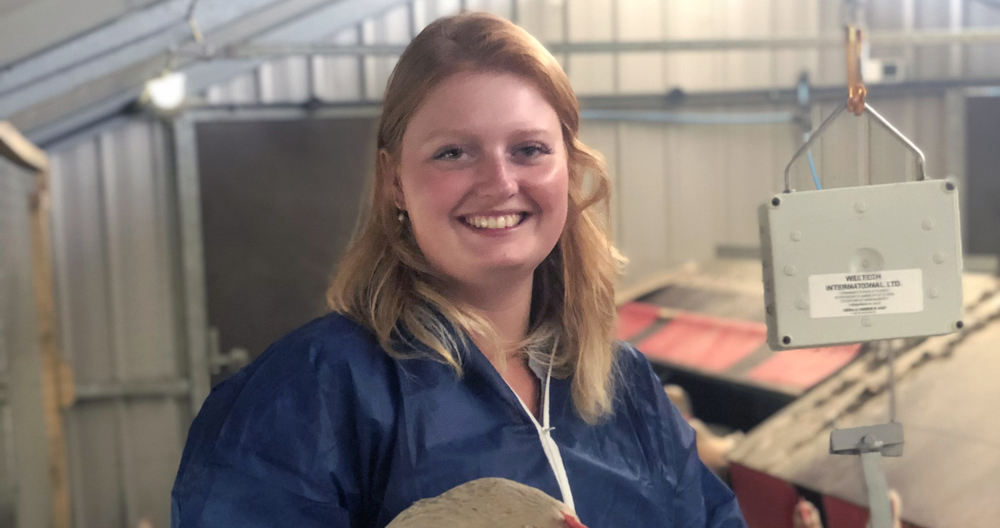 Harriet Smith is the winner of the 2020 Zoetis-NFU Poultry Trainee Award, and she is already putting her experience across the egg sector to good use to tackle some of the issues facing the poultry industry.
The pandemic led to the judging of the four finalists taking place online. Such was the calibre of all finalists that the task presented a great challenge for the judging panel, which included James Porritt and John Kenyon, of Zoetis, NFU Poultry Adviser Tom Glen and Poultry magazine editor Huw Hopkins.
The other finalists were all from the broiler sector – Kane Burchell of Hook2Sisters in Gunness, Emily Grove of Avara Foods in Herefordshire, and Laura Harrison of Hook2Sisters in Scotland.
The winner was announced at a virtual event, attended by senior Zoetis and NFU figures, where the finalists were able to ask questions to several of the recent award winners.
Campaigning for a more supportive industry
Harriet, a poultry specialist with Crediton Milling Co in Devon, is passionate about bringing the industry closer together. In her application, she said: "I would like to see supermarkets supporting their suppliers more and promoting the amazing work our farmers do – not making life harder for them.
"Farmers know how to produce good-quality food and the supermarkets know how to market their produce. If the industry were to work closer together, the public would be more educated on where their food comes from and how it is produced."
Harriet is contributing to this with an enterprising Instagram account – follow her on @the_poultry_diaries – which portrays the day in the life of a poultry enthusiast passionate about agriculture and supporting British poultry producers.
She had intended to use the £2,000 training grant sponsored by Zoetis to invest in a 'Crackless Egg' – an electronic device to find where cracks might be caused on farm – but her employers were so impressed with the concept that they have already taken up her idea. We'll be reporting in future on how she finally decides to use the grant.
Read the judges' comments
Tom Glen
"Harriet's passion for poultry really shone through in her application and interview for the award. I was particularly impressed with her depth of knowledge around the challenges facing the sector, especially when it comes to public perception and consumer understanding of different production systems. Harriet's ambition to progress in the industry, combined with that knowledge and passion, will make her a great ambassador for encouraging more young people to embark on a career in poultry."
John Kenyon
"In yet another year where the quality of award finalists was remarkably high, Harriet was a particularly impressive candidate. She showed comprehensive knowledge and understanding of the current issues faced by the poultry sector, combined with genuine enthusiasm for the work involved. Setting up an Instagram account to help educate the public and showcase the poultry industry in a fairer light shows great initiative and I look forward to seeing how the Zoetis grant will help further her future career."
James Porritt
"I was particularly impressed with the way Harriet thrives on adding value to her customers through her current role and also her drive to engage the whole team at Crediton Milling, which inevitably benefits the customers too. She has a thirst for knowledge and seems to always be looking for ways to improve herself with training or research, and because of this can-do attitude she has a very bright future in the poultry industry. I am looking forward to seeing what she does with the grant, and will be keen to see how her career progresses."
Huw Hopkins
"Harriet topped a highly competitive field of interviewees to win this year's prize, but the elements of her application that stood out were the clear plans and achievable but ambitious goals within the industry. Having convinced her employer to invest in a Crackless Egg, she is now targeting courses on nutrition to build her expertise. Her willingness to be a face for the poultry sector, improve her public speaking and educate the next generation shows that she will be a huge asset to the industry in the future."