What is the Agricultural Transition Plan?
The Agricultural Transition Plan began on 1 January 2021, with the start of the seven-year transition away from EU-based schemes. These are schemes such as direct payments – currently in the form of the Basic Payment Scheme (BPS).
Defra wants to move towards a system in which farmers are paid to improve the environment, improve animal health and welfare and reduce carbon emissions.
Defra will be phasing out BPS payments and closing existing agri-environment schemes, while introducing a new approach. The new approach will include:
The Environmental Land Management scheme (ELMs). This is a new way to pay farmers and land managers to produce public goods, for example through nature-friendly practices.
Grants and other help to improve farm productivity and prosperity.
A new approach to farming regulation and enforcement.
The NFU is heavily engaged with the Agricultural Transition Plan across many teams. We are working with and challenging the plans as they formulate and develop.
Phasing out direct payments
With the phase out of direct payments in England from 2021 to 2027, the money from these reduced payments will be invested back into farming and the countryside by helping to fund the new schemes. Defra is involving farmers and stakeholders in the co-design of the new schemes. Co-design is an approach that actively involves others from the beginning of a project, right through to roll-out. This will help to ensure that all the new schemes work on the ground.
There are two key elements that Defra will introduce during the move away from direct payments. These are:
A change to the delivery model of direct payments from BPS to delinked payments in 2024.
An opportunity to allow farmers to apply for a lump sum exit payment to leave the industry in 2022. This is in place of direct payments and in lieu of the remainder of direct payments during the agricultural transition, subject to any cap imposed on this payment method.
What will happen during the transition period?
Direct payments will be phased out from 2021 to 2027.
Environmental Land Management schemes will be introduced through pilots and tests from 2021 to 2024, with all components fully available from 2025.
An Animal Health and Welfare Pathway will be established to support farmers around proactive flock and herd health and welfare management.
Grant support will be provided to help farmers maintain and improve productivity, and invest in research and development and sustainability through the transition.
EU scheme-based regulation and enforcement will be replaced with a new, more effective and trusted approach.
Advice and guidance will be provided to farmers to help them make the right decisions for their individual circumstances.
Help will be provided through the transition, including business planning, training and advice and an exit scheme for farmers, so those that wish to leave the sector can do so.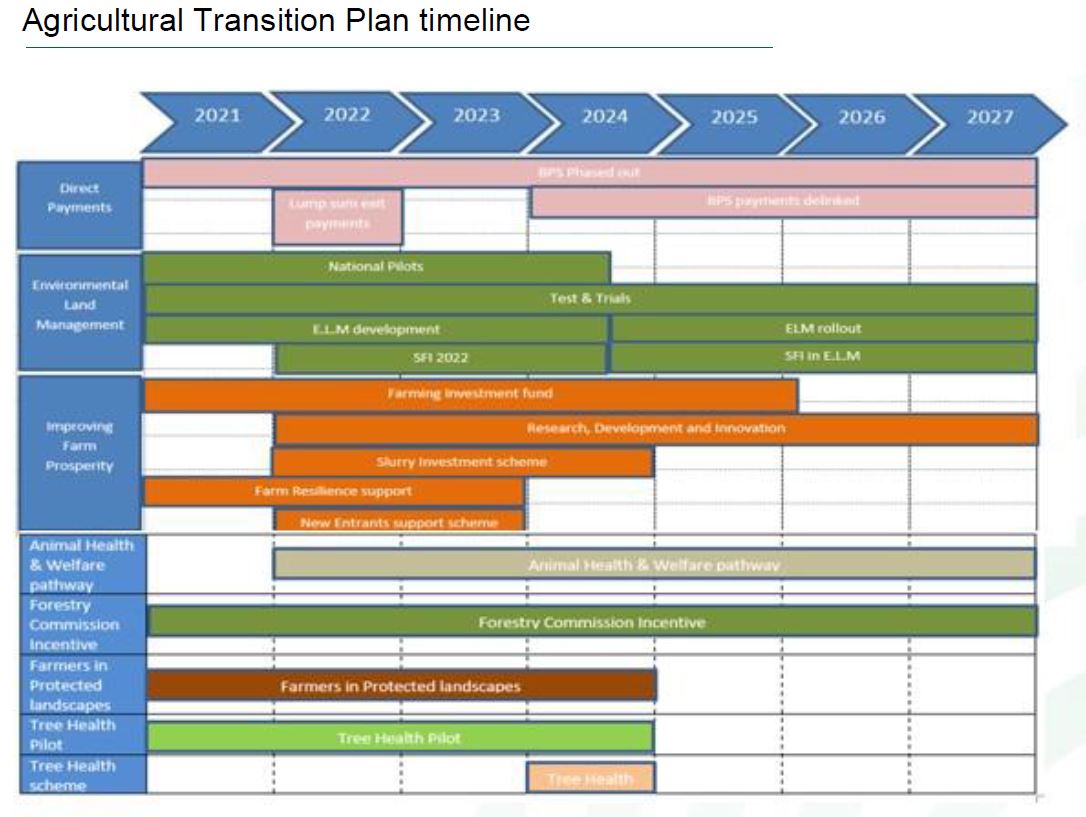 Our chart provides an approximate illustration of the various schemes that will be available and when during the transition period. Log in using your membership details to download it.