2021
October
Supply chain issues
NFU President Minette Batters appeared on the BBC's Andrew Marr Show (watch from 4 mins) where she reviewed the stories making the headlines in the morning papers and spoke about the ongoing labour shortages facing the agriculture sector.
NFU President Minette Batters appeared on BBC Question Time, alongside Secretary of State for Education Nadhim Zahawi, Shadow Foreign Secretary Lisa Nandy, broadcaster Nick Ferrari, and comedian Rosie Jones. Minette spoke powerfully about the need for government to work with businesses to solve the food supply chain crisis, and took part in discussions on a number of other topics.
Once again the news was full of stories about supply chain issues with the Daily Mail and the Independent reporting that Chancellor Rishi Sunak said the Government will do all it can to "mitigate" global supply issues, but he conceded that there is disruption and did not rule out Christmas being affected. Both articles quote NFU President Minette Batters.
Other outlets including the Daily Mail, iNews, the Times, the Independent, the Daily Express and the Guardian also quoted Minette or the NFU more widely.
As the conservative party conference began it was a busy couple of days for Minette as she was interviewed by BBC News (7 min 30), ITV News, BBC Radio 4's Today programme and Carole Walker for Times Radio (1hr 44). In each interview, Minette discussed the impact of supply chain issues on farmers and what could happen if the situation was not resolved soon.
September
Meat supply issues
NFU President Minette Batters was interviewed live on BBC Newsnight (20:25) discussing the labour shortages facing British food and farming. Following Minette's comments, that suggested that if the worker shortage issues aren't addressed immediately there could be a welfare cull of pigs, the Daily Mail, the Daily Express and the Times all produced articles quoting Minette.
Earlier in the month Minette was also interviewed by BBC News, Sky News and across BBC radio, while NFU Cymru milk board chair Abi Reader shared her thoughts on the issue with Sky News and ITV News Wales and NFU chief livestock advisor John Royle spoke to the Telegraph.
CO2 shortage
Towards the end of the month CF Fertilisers production ground to a halt due to the wholsesale gas prices, creating a sudden shortage of fertilisers and it's production byproduct CO2.
Following emergency meetings ministers reached a deal to restart CO2 production at CF's factories in an effort to ease fears of food shortages. The Guardian, the Times, BBC News, the Sun, the Daily Mail and iNews all covered the story and quoted NFU President Minette Batters as she discussed the issue and mentioned the NFU's emergency cross industry meeting.
Minette also recorded an interview for BBC Radio 4's Farming Today (8mins) to discuss the emergency meeting convened by the NFU about the issue and the knock-on impact supply issues are having for food and farming. Furthermore, she appeared live on BBC News at with Martine Croxall, BBC Radio 4's PM and on Ian King's business programme on Sky News.
Turkey producer Michael Bailey, and the chair of the NFU's turkey group, also discussed the issues on BBC Breakfast.
Cross industry letter to govenrment
As a result of the emergency meeting convened by the NFU (mentioned above) a letter was sent from 12 food and drink trade groups, led by the NFU, to Prime Minister Boris Johnson to warn of panic-buying this winter unless action is taken to address labour shortages as they said the food and farming sector is on a "knife-edge" due to a "crippling" shortage of workers across the entire supply chain.
The letter reiterated calls for an emergency visa to allow firms to recruit from outside the UK, as farmers, hauliers and shops have been struggling with shortages that have been made worse by Covid and Brexit. The story has been covered by the BBC, Sky News, the Daily Mail, the Guardian, the Independent and the Telegraph who all quote either Minette or the NFU.
Labour shortages
News about labour shortages continued as September rolled on, NFU Vice President Tom Bradshaw kicked off the month with an interview in the Daily Mail as they revealed shop prices in Britain rose due to the national shortage of lorry drivers and disruption to the global supply chain caused by the Covid pandemic and post-Brexit migration rules hit.
Later in the month as Coca Cola became the latest food and drinks giant affected Tom was again quoted in the Daily Mail and the Daily Mirror.
Regionally, NFU West Midlands director Robert Newbery spoke to BBC Lincolnshire about food wastage caused by labour shortages. Meanwhile, BBC News Stafford mentioned the NFU in an article as they met a dairy farmer who was told to dump his milk after a shortage of lorry drivers meant it could not be collected.
August
Grant Thornton report
The NFU joined organisations from across the food and farming sector to produce a new report calling for a 12-month 'Covid-19 Recovery Visa' to help alleviate the workforce shortages affecting the whole of the supply chain.
The report estimates there are more than 500,000 vacancies across food and drink businesses and draws attention to the significantly increasing cost of getting food to the public.
Media pickup for the report was widespread and included the Mail on Sunday, the Daily Telegraph and the Guardian, who all quoted NFU Vice President Tom Bradshaw. NFU member Julien Marks was quoted in the Observer on the same issue.
Sky News, BBC Breakfast (8:23 am), BBC Farming Today (14 mins 50) and GB News also put together news packages about the issue. Farming Today and GB News spoke to Tom while Sky also interviewed NFU member Oli Pascall and BBC Breakfast filmed from NFU horticulture and potatoes board chair Ali Capper's farm.
The perfect storm
August saw the effects of Brexit and the pandemic coming together as limited travel and visa permits meant many farmers faced a harvest without enough pickers or HGV drivers.
NFU Vice President Tom Bradshaw was very busy as news outlets sought to understand what had caused the food shortages across the food supply chain, from restaurants to the supermarket. Tom appeared on Times Radio (2hrs 14mins) to discuss the subject and was quoted in two further Times articles, one by Katie Gibbons, and the other by Robert Lea. He also appeared on BBC Radio 5 Live (1hr 22mins) and LBC radio.
Rural job creation
The Guardian interviewed NFU environment forum member Jake Fiennes as part of an article focusing on rural jobs and rewilding. According to the piece, rewilding 5% of England could create nearly 20,000 jobs in rural communities and increase employment by 50% compared with intensive farming.
July
COVID-19 self isolation
As the announcement was made that some food supply chain workers will be exempt from quarantine, NFU Vice President Tom Bradshaw shared NFU reaction to the news. He appeared on BBC Radio 4's Today programme (listen back from 8:12am) and reiterated the importance of making sure the government doesn't just focus on the end of the supply chain and includes farm workers in future plans.
Tom was also interviewed by the BBC News channel, Sky News and BBC 5 Live (26:50). Clips from Tom's Sky News interview were also played out on 250+ commercial and community radio stations across the UK.
Elsewhere, the Independent posed the question: Could the UK run out of food? The NFU was quoted as saying that while there are some labour supply issues, it is unrealistic to suggest a nationwide food shortage.
114 pieces of coverage on the issue included an NFU quote. The coverage appeared across print, broadcast, regional, and trade - achieving a reach of over 43 million.
In other news, the Times published an article, quoting NFU stats, about the importance of seasonal workers on the domestic supply chain of crops.
June
The 'Pick for Britain' scheme came back into the spotlight at the beginning of this month and NFU horticulture and potatoes board chair Ali Capper was quoted in a Daily Mail article discussing the physical demands of working as a picker.
April
As the picking season drew closer many outlets started to ask what would happen to this year's seasonal workforce and what would replace last year's 'Pick for Britain' campaign. NFU Vice President Tom Bradshaw began his series of interviews on the subject with a quotes in the Financial Times and the Daily Mail.
February
NFU Vice President Tom Bradshaw and member Alex Newey featured in a Financial Times article that reports that ornamentals could go unharvested this year after the multibillion-pound sector was not included in the seasonal workers' scheme.
2020
December
Sesonal agricultural workers' scheme
NFU Vice President Tom Bradshaw was featured in a Guardian article discussing the extension of the seasonal agricultural workers' scheme, which will allow farmers to bring in 30,000 seasonal workers from overseas in 2021 – three times more than 2020 – to help pick and pack fruit and vegetables.
Times Radio interviewed salad grower and NFU member Nick Ottewell to discuss the effect Brexit will have on his seasonal workforce and the 'Pick for Britain' campaign. He also explained the importance of having a migrant workforce.
November
The Sunday Times reports concerns around seasonal labour for the daffodil harvest, which will be one of the first recruitment challenges for a post-Brexit Britain. NFU member and daffodil grower Alex Newey is featured alongside NFU Vice President Tom Bradshaw.
October
BBC exclusively reports the NFU's seasonal labour survey
The NFU's most recent seasonal labour survey revealed that UK residents made up only 11% of the seasonal workforce this year despite the high-profile Pick for Britain campaign to recruit domestically. The news was given to the BBC as an exclusive.
BBC News at Six featured an interview with NFU member and Gloucestershire grower Martin Haines from his farm who is currently harvesting pumpkins, who explained that the the interest for picking roles from domestic workers is not forthcoming.
NFU Vice President Tom Bradshaw is quoted in BBC online, explaining that growers of flowers, fruit and veg still don't know how they will recruit experienced workers next year.
On BBC Farming Today, Tom reflected on the survey results and reiterated the NFU's call for clarity.
Financial Times also covered the story and the NFU's warning that time is running short to recruit workers for next year's harvest. The piece featured comments from Tom Bradshaw, horticulture board chairman Ali Capper and vice chairman Derek Wilkinson.
July
FT reports development in robot harvester
The Financial Times reported that growers are turning to robotic harvesters as a long-term solution to the labour gap. NFU horticulture and potatoes board chairman Ali Capper is quoted reiterating the point that robots will be plugging a shortage, rather than taking jobs, emphasising that "first-world economies just do not pick their own fruit and vegetables" because such roles are temporary and seasonal.
June
The Financial Times reports how the lack of a workforce from Eastern Europe this year has foreshadowed Brexit difficulties. NFU Vice President Tom Bradshaw highlights the success of the Pick for Britain campaign and NFU horticulture and potatoes board chairman Ali Capper is quoted explaining that the NFU is preparing an assessment of cost increases to share with government and supermarkets.
March
NFU President Minette Batters emphasised on BBC Radio 4's PM and Today programmes that we now have an opportunity to produce more food domestically and that British workers could also be trained to carry out seasonal roles on farm.
February
Government announces immigration policy
As the government announced it's new points-based immigration policy, the NFU featured heavily in the media emphasising that any immigration policy must reflect the importance of food and farming and deliver for its needs.
NFU President Minette Batters was interviewed on BBC Radio 4 Farming Today where she stressed that a lack of access to overseas workers, both seasonal and permanent, risks downsizing domestic food production.
NFU horticulture and potatoes board chairman Ali Capper spoke to TalkRadio's Matthew Wright explaining why British farming relies on seasonal workers from overseas.
2019
October
NFU calls for expansion of Seasonal Workers pilot
There was plenty of media coverage on the NFU's call for the government to expand the Seasonal Workers pilot scheme after its Labour Providers Survey showed a significant shortage of workers in September.
The shortage of seasonal workers was the leading story on ITV News, and NFU horticulture and potatoes board chairman Ali Capper was interviewed highlighting the impact it is having on farms. The piece also cited statistics from the NFU's Labour Providers Survey.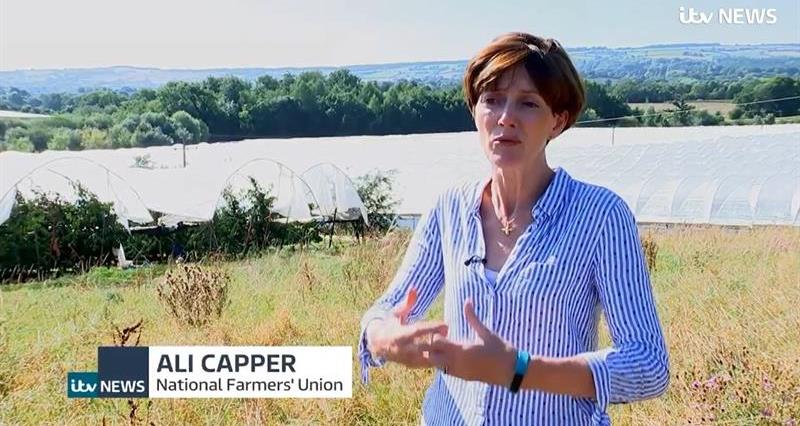 Ali was also interviewed on BBC Radio 2's Jeremy Vine programme to explain why there has been a shortfall of seasonal workers on farms.
ITV News published an online article featuring NFU member Jeremy Best expressing his concern that he won't have enough pickers to harvest his strawberries next year. The piece included NFU South West communications adviser David George who said the industry needs to recruit 70,000 seasonal workers to fill the roles at harvest time.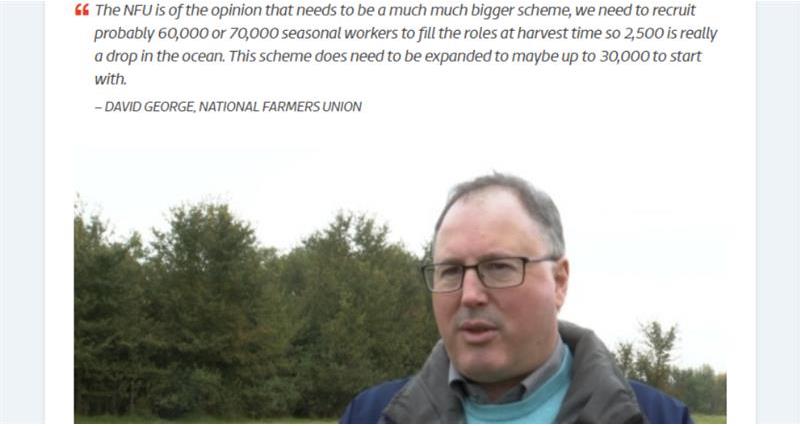 NFU member Martin Haines featured on BBC Radio 5's Wake Up To Money discussing labour shortages and how it is impacting his pumpkin harvest.
Ali Capper's comments and the NFU's call to expand the pilot scheme also featured across national print titles.