At the end of an NFU county chair's term in office the organisation usually purchases a gift to say thank you for their dedication and service to others.
Outgoing NFU Lancashire County Chair Lisa Edwards has requested that the NFU does things a little differently for her, given the ongoing cost of living crisis.
Lisa has asked that her gift is a donation to the Royal Agricultural Benevolent Institution (RABI) in the form of four single and four family sized SewFab thermal cooking bags, an initiative designed to tackle fuel poverty and climate change.
Based in Skelmersdale, female led award winning social enterprise The Sewing Rooms are addressing the current energy crisis by designing and manufacturing the thermal cooking bags which have the potential to save hundreds of pounds per year off bills.
The bags are made up of 5kg of textiles saved from landfill.
Paula Gamester, Co-founder and Director of The Sewing Rooms, said: "The current cost of using an oven is 70p per hour. We estimate that one family using the SewFab thermal cooking bag four times a week can save £9.80 with an estimated saving of £509.60 per year."
RABI's North West Regional Manager Lauren Codling gratefully accepted Lisa's gifts on behalf of the farming charity.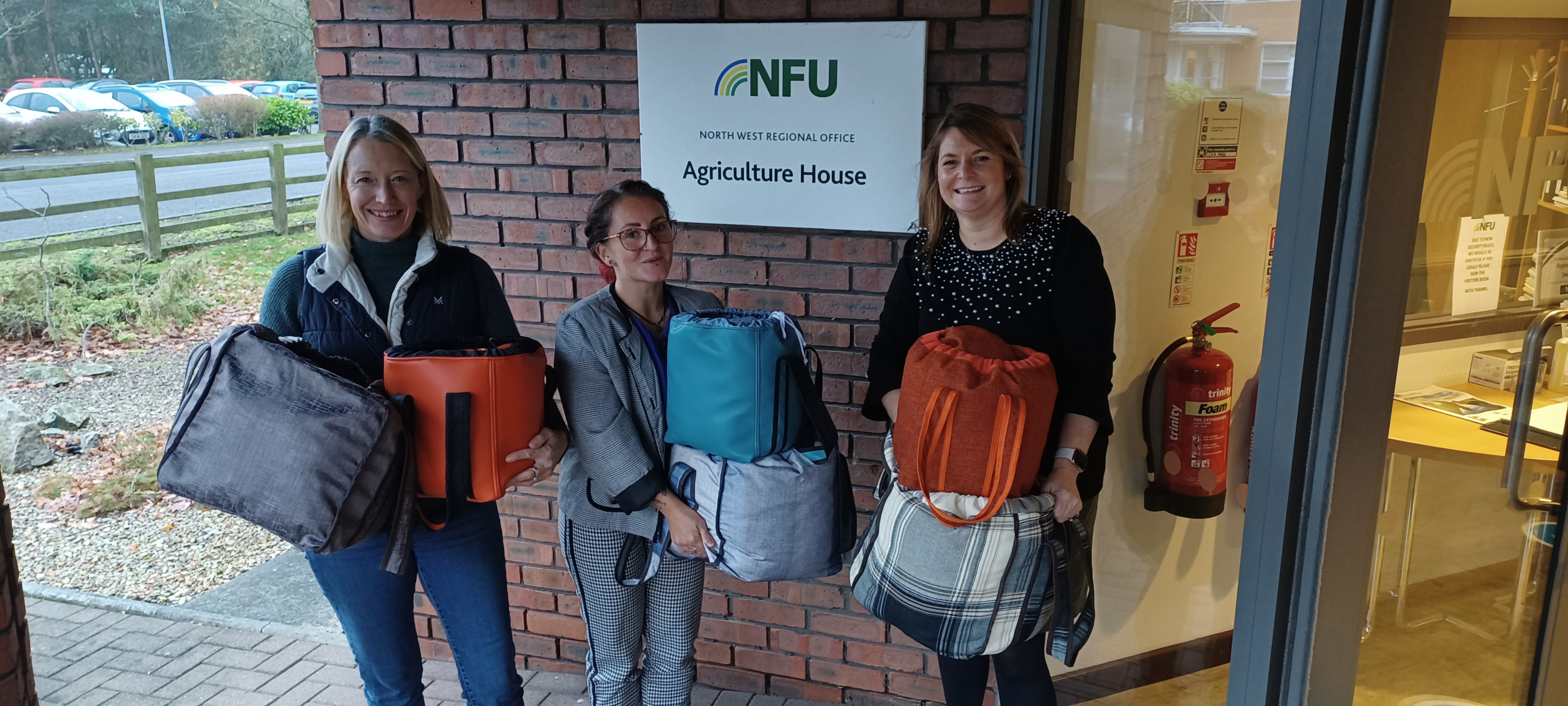 She said: "These bags are going to be given to farming people based in the North West region by our Regional Support Manager Jackie Clegg who'll assess need when out on visits.
"We are thankful for Lisa's kindness and support to ensure we can continue helping farming people through this ongoing crisis. Anybody from the farming community who needs our support should contact our helpline on 0800 188 4444."
NFU Lancashire County Chair Lisa Edwards added: "I first became aware of the fantastic work done by social enterprise The Sewing Rooms when they presented at my local Rotary Club. We have worked closely with them ever since.
"When NFU asked me what I'd like as a gift for my time spent as county chair, I realised that I don't actually need anything. And because I volunteer at the food bank, I see a lot of people from Skelmersdale who are in need. Sadly, the problem is escalating and I'm acutely aware that there are also many farming people currently in need of support when it comes to fuel costs. On the whole farmhouses can be big old draughty things and very difficult to keep warm.
"I bought one of the thermal cooking bags myself, so I know how useful they are. Also, for any bag you buy the social enterprise also gives one away to charity so I knew the NFU's gift would double in size. It seemed like a nice thing to do at the end of my term."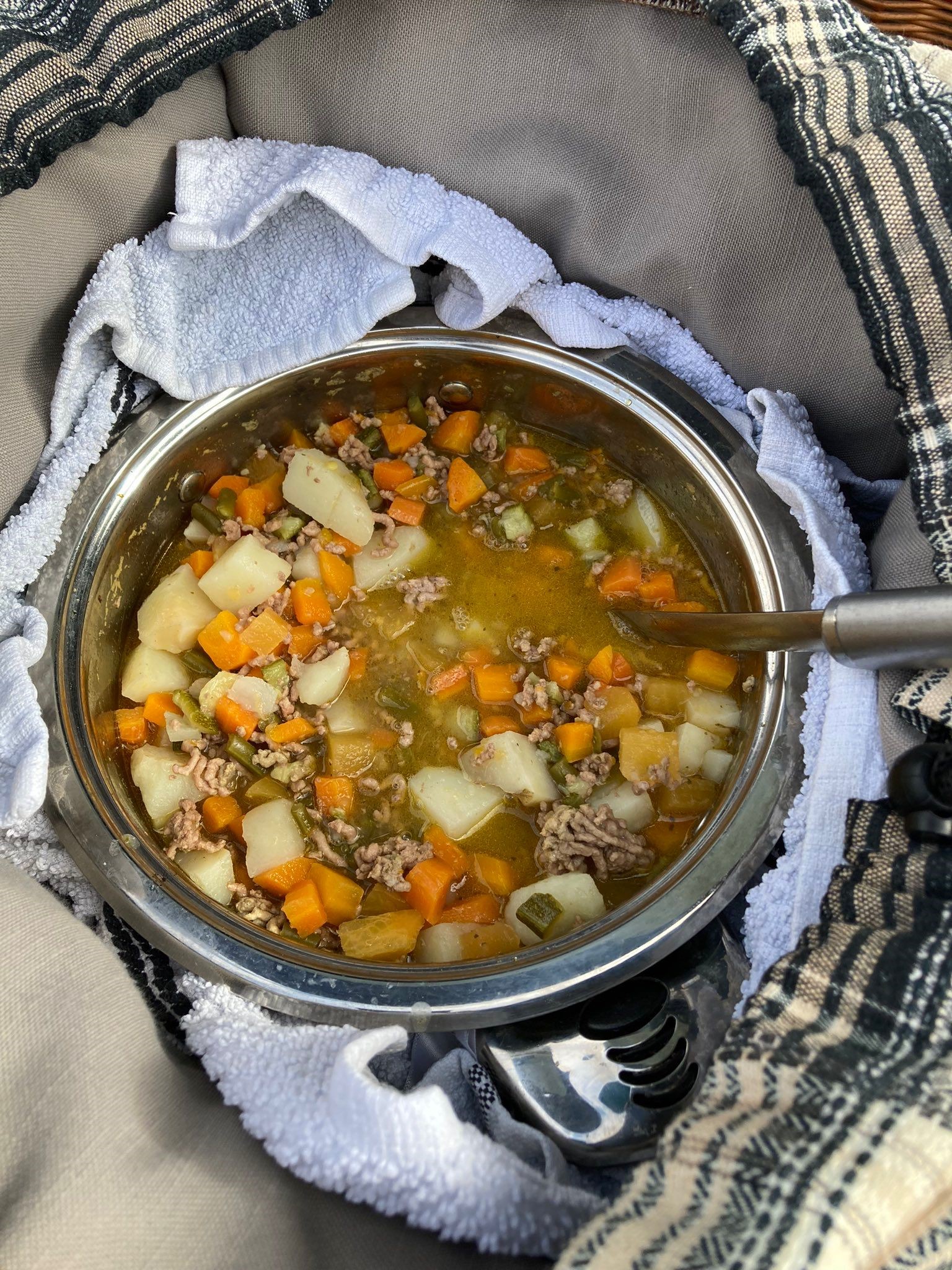 How to use the thermal cooking bag
The bag is perfect for soups, casseroles, chilli, and other slow cooked meals.
Cook as normal (browning meat, veg and adding stock) in a metal or cast-iron pan and bring to the boil for 10 minutes.
Wrap the pan in a towel, this helps retain heat as well as fixing the lid securely.
Put your wrapped up pan in the bag with the cushion on top and fasten tightly.
Leave it for three to four hours and cooking will occur over this time.
Take the pan out of the bag and enjoy your meal.
The SewFab bag can also be used for keeping food hot, taking on a picnic or transporting in a car.
For further information and an instruction video visit www.sewfab.co.uk
The company produce small bags for £40, or larger bags for families priced £50.
About The Sewing Rooms
The Sewing Rooms social enterprise is a business that trades to tackle social problems. Their goal is to improve the personal and environmental health and wellbeing of the communities they work with, as well as improve peoples' life chances.
They do this through bespoke training workshops and a manufacturing department that makes soft furnishings, accessories, and bespoke upholstery for private and corporate clients.
They upcycle, recycle, and divert textile waste from landfill and seek to build circularity into local economies at every opportunity. They exist to make a difference locally and regionally, and while they earn money through trade just like a normal business, what they do with that profit makes all the difference.