How can homegrown sugar rise to the emissions challenge and what changes are needed to strengthen and to secure value from strong carbon credentials?
Those were the big questions for an NFU Conference sector session, chaired by Bruno Gardner, MD at NFU EnZero, that learned how efforts are already underway to ensure a joined-up approach to carbon-cutting across the sugar beet supply chain.
Mitigating key factors
Georgina Barratt, crop scientist at the British Beet Research Organisation, told how fuel and fertiliser footprints and emissions that occur every time soil is worked would be among the key factors to mitigate, with any activity that increases yield while reducing inputs offering potential, including varietal research, improved grower practices and enhanced soil health.
Dr Barratt explained that as a leafy crop, beet sown in April sequesters carbon until lifting, when groundwork starts to impact greenhouse gas emissions.
Improved management practices
It compares well to other crops on sequestration, but UK-specific data on the scale, timing of emissions and the best interventions is scarce, and Dr Barratt said an upcoming BBRO field project would properly assess greenhouse gasses from the UK beet crop. It will investigate improved management practices to cut emissions while best protecting yields, all aimed at ensuring the sector can back its carbon claims.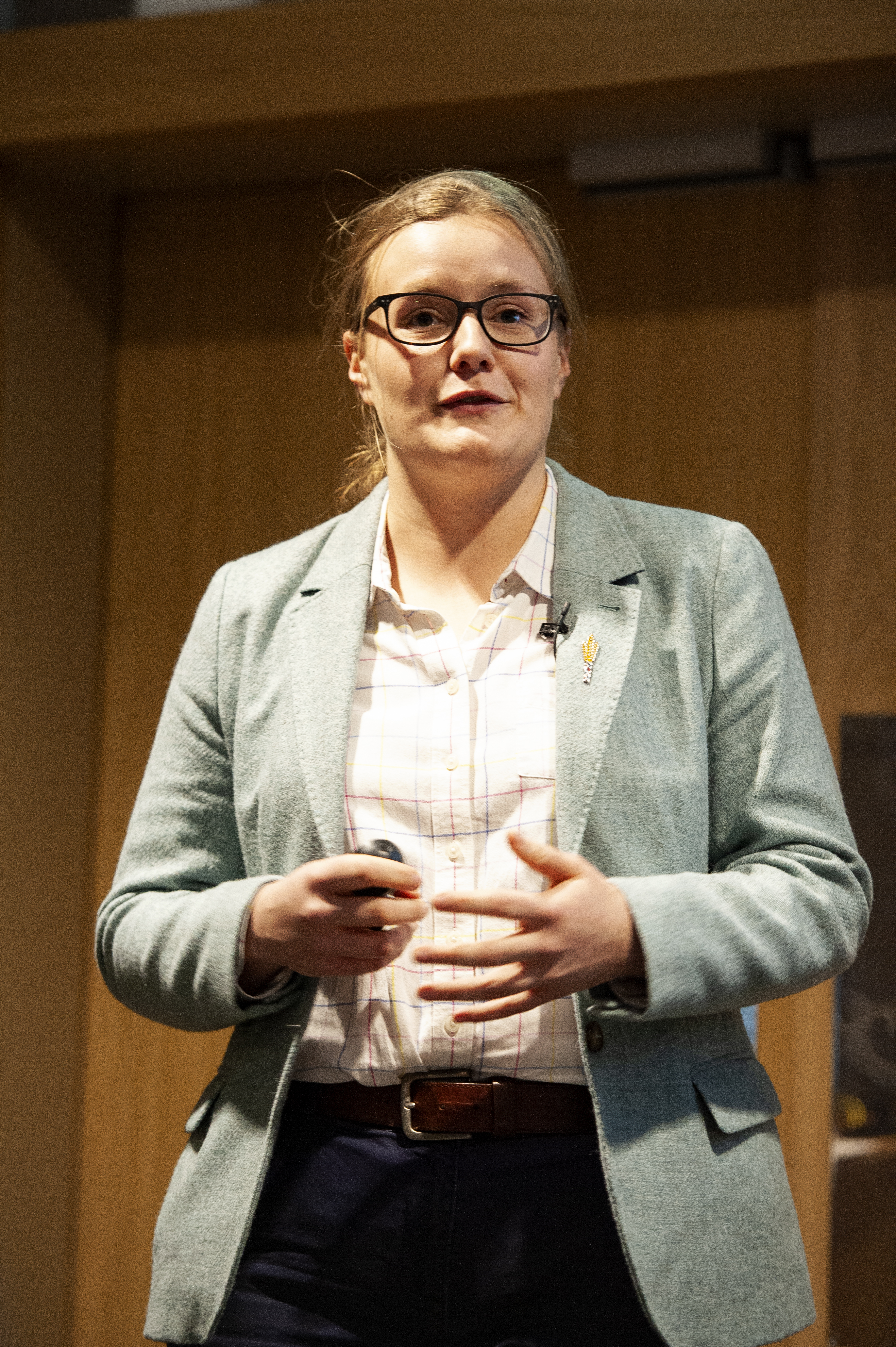 Above: Georgina Barratt, Applied Crop Scientist, BBRO
Selling the story
In a joint presentation, British Sugar's Tessa Seymour and NFU Sugar Board member Tom Clarke said such hard evidence would be key, especially as some studies have found sugar produced from UK beet has a greenhouse gas footprint around half that of cane imports, which could factor into consumer choice.
Assessing the opportunities of a low carbon crop
For homegrown product, Carbon Trust research commissioned by British Sugar, suggested a 37%/63% split between emissions at cultivation (on-farm) and during processing for homegrown sugar, they said.
A whole supply chain approach is key to accessing the opportunities of a lower carbon crop and the uniqueness of the beet supply chain provided a head start for such joined-up work, attendees heard.
With diesel making up 67% of the cultivation (on-farm) emissions tally, and emissions caused by soil disturbance 27%, those could prove initial areas of focus for farmers looking for potential returns from low-carbon sugar.
Getting value
"NFU Sugar is determined to ensure that British farmers get value from the carbon savings they make."

NFU Sugar Board member Tom Clarke
"NFU Sugar is determined to ensure that British farmers get value from the carbon savings they make," said Mr Clarke.
He added that while carbon markets and government money for meeting regulatory aims were possible, the biggest opportunity might come from a bigger market share, with buyers ranging from the public to investors looking to demonstrate their climate credentials.
"We know there is huge enthusiasm for a low-carbon product," said Ms Seymour.
Setting priorities
The first steps to tapping the opportunities are already under way, with NFU Sugar and British Sugar working on a Homegrown Beet Climate partnership to set priorities and provide an 'umbrella' for several projects.
Among those, a carbon footprint strand will incentivise growers to use a fit for purpose carbon calculator on farm and to measure progress year-on-year, while 'sustainable agriculture agreements' could encourage certain on-farm practices and open new markets.
Such practices needed to be practical, flexible to farm set-ups and weather and not compromise farming margins or extractable sucrose quality, the session heard.
"The Homegrown Beet Climate Partnership will put the sector in the vanguard, said NFU Sugar Board Chair Michael Sly.
"We are proud as a board to be pioneering and showing the way to other sectors."