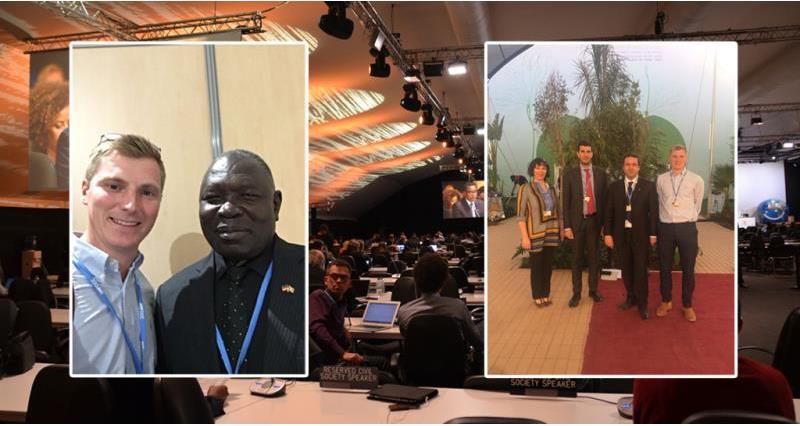 Richard Bower is chairman of our Next Generation Forum. Here's his take on the recent COP22 climate change talks in Marrakech.
"Can I persuade dad to drive the tractor to Cameroon?"
I've been fortunate enough to spend a couple of days at COP22 - speaking at a couple of events, meeting all sorts of people and sitting in on international negotiations.
Four things I've learnt from my whirlwind visit:
1) It's so important for farmers to be here. We want to tell our story; it's our voice we want heard, not someone else apparently speaking on our behalf. And everyone else is here – business, research, trade unions, indigenous people, NGOs – along with almost every government under the sun. And it's been great to meet so many different people from all over the world, listen to their perspectives and hear about the innovative things that they are doing with technology, management and relationships.
2) How hungry African farmers are to succeed. I've heard so much that's progressive and positive. If they get access to the investment they need, they'll be pushing us all the way
3) How well the NFU is respected internationally. Now that the UK has voted to leave the EU, it seems to me that our international standing, both us as farmers and the organisation which represents us, becomes ever more important. That's also true of our membership of an organisation like the WFO, because it's that global voice which gives us strength.
4) With only one-third of climate funds spent on agriculture, we're all missing a trick. The world's farmers need access to finance so that we can become more efficient and more resilient for the challenges ahead. There's much that we're already doing; call it "climate smart" farming or just "smart" farming, we have a good story to tell but we're capable of so much more.
Just before I left, I caught up with a farmer from Cameroon, who reminded me to send him that old spare old tractor Dad and I have at home. It would transform so many lives he said. Now the only question is, can I persuade dad to drive the tractor to Cameroon leaving me in charge at the farm? Sounds like something to add to the succession plan!