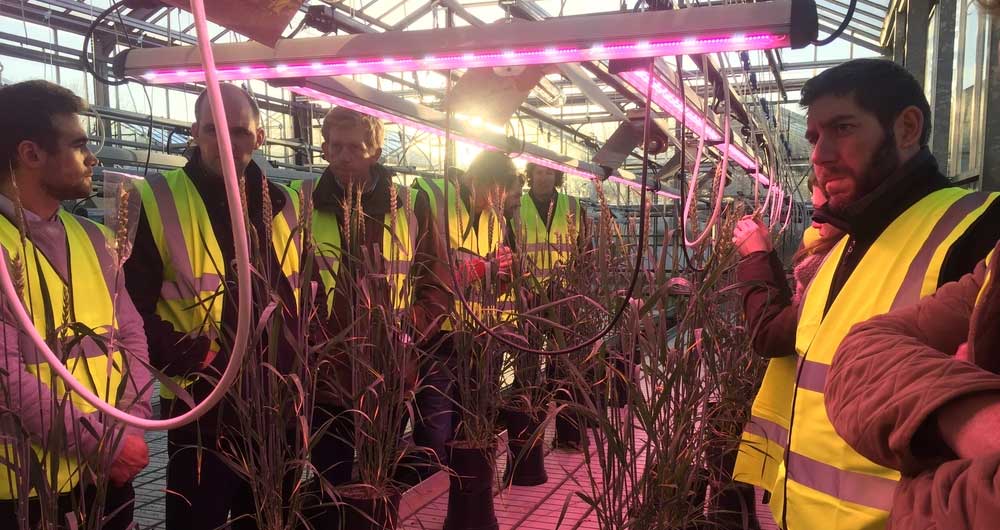 Pictured above: Cereals Development Programme delegates on a site visit to KWS
Applications are now open for the 2020-21 Cereals Development Programme (CDP), run jointly by the NFU and Openfield. The programme offers delegates a unique insight into the cereals supply chain and what happens beyond the farm gate.
The programme is scheduled to run between October 2020 and February 2021, but may be subject to change with developments surrounding coronavirus.
As part of the programme you will receive various training sessions, gain insights into organisations such as the NFU, AHDB, Red Tractor and Openfield as well as visit Brussels, research centres, ports, bakeries and follow the chain right from grain arriving at a mill to meat leaving the processing plant.
How to apply:
The Cereals Development Programme is open to current NFU and NFU Cymru members.
Please send a CV and covering letter to Y2hsb2UubG9ja2hhcnRAbmZ1Lm9yZy51aw== by midnight on the 30 June.
What do previous delegates say?
"It was eye-opening to see how agricultural policy was developed at an EU level at the European Parliament in Brussels and it was great to learn about the UK arable supply chain and how we can be a part of shaping its future direction."
Jerome Fielder, Notts
"The CDP gave me a great opportunity to visit and learn about the other sides of the arable sector such as plant breeders, grain marketers and policy makers. As well as meeting some great friends, I learnt so much about the industry and how each integral part fits together. I highly recommend applying for this year's programme."
Charlotte Hudson, Kent
"If you're serious about agriculture and especially the arable sector then there's no better programme to join than the CDP. It gave an in-depth insight into how our sector works, plant breeding, grain marketing and the legislation and policies behind our products. You'll get an insight into what happens behind the scenes at Openfield and all the hard work the NFU does on our behalf. It brought fellow young arable farmers like myself together and some of which are now some of my closest friends. I'd highly recommend it to anyone and encourage you to apply straight away."
Rob Atkin, Staffs
"The CDP was a great experience allowing me to meet like-minded people from all parts of the country and across the agricultural industry. The visits that we carried out opened my eyes to other parts of the cereal food chain and the training provided by the NFU will help me for the rest of my career.'"
Will Baker, Notts
"The Cereals Development Programme is fantastic for two reasons. It provides delegates with unique access to the inner workings of some exceptional agri-food businesses and organisations that impact on the daily activities of our arable farms. Secondly, it is fun! Visiting different parts of the country with a group of like-minded young farmers has led to lasting friendships and plenty of networking opportunities."
Alex Nelms, Buckinghamshire
More from NFUonline: