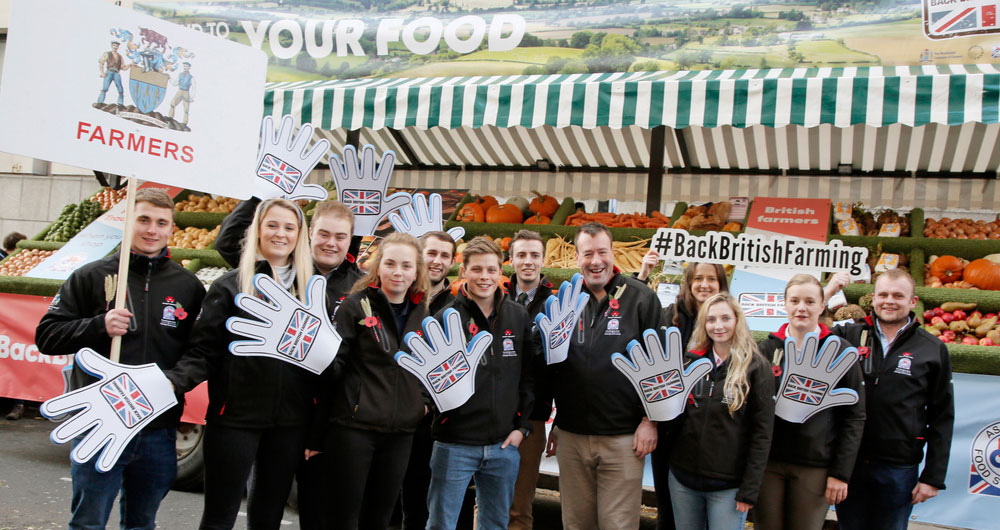 More than 600,000 people lined the streets of the City of London on Saturday 9 November to watch the Lord Mayor's Show.
Along with an audience of three million on BBC TV, British farming was in the spotlight with the NFU's presence lining up in a prime tenth position.
NFU Vice President Stuart Roberts accompanied our 10 Student and Young Farmer Ambassadors as they 'high-fived' the crowds while walking alongside a Massey Ferguson MF 8740S tractor and a British Farmers Market stall stocked full of fresh, seasonal produce.
Poppy Burrough, 19, South West
Our weekend in London started with a tour of Surrey Docks farm, a working city farm in the heart of London. It was great to see how they connected with the local community to teach them about where their food comes from in a sustainable and educational manner.
They interact with people of all ages and host school visits and training projects for adults with learning disabilities. For a 2.2-acre site, it is safe to say they squeeze a lot in.
On the Friday evening, we had a great meal hosted by Massey Ferguson where we got to meet some of their team, as well as the Master, Senior Warden and the Liveryman of the Worshipful Company of Farmers, who would be on parade with us the next day.
Saturday bought an ideal sunny morning, ready for a busy day ahead. The Worshipful Company of Farmers' display was incredible showing just the range of high quality food that British farmers produce.
There was such a positive reaction from the people on the streets. There was a great amount of interaction with the public, who loved giving high fives and cheering for British farming.
As a team, we shared the message of Back British Farming. I would definitely say that the Lord Mayor's Show is hands down one of the best things I've taken part of since being involved, and there is no better people to spend the weekend with.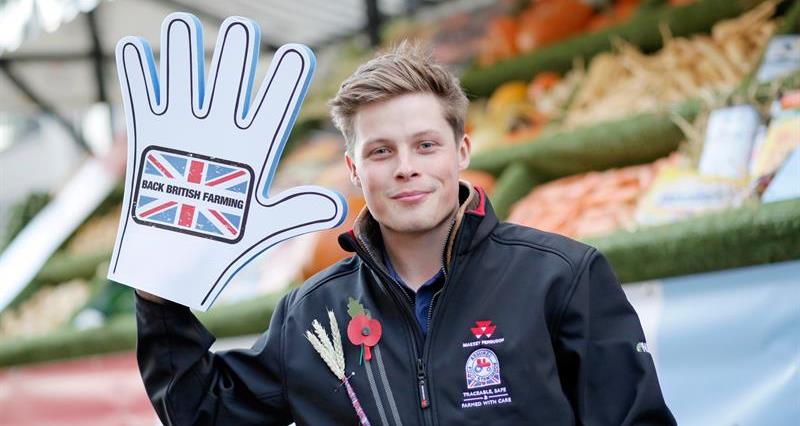 James Mcleod, 23, West Midlands
It was a real privilege to represent the British farming industry at the Lord Mayor's Show in London. The show provided us with a great opportunity to showcase the best of British by pulling a flat bed trailer transformed into a market stall, which was filled full of British produce including fresh fruit and vegetables, a range of dairy products and a selection of packaged products.
The trailer was a real spectacle, pulled by a Massey Ferguson tractor that tied in our headline message for consumers to back British farming by looking for the Red Tractor logo when out shopping.
My personal highlight of the day was being able to engage with the public, and the support from the crowd for our float was incredibly positive as we walked along the route.
As the show concluded, we packed up the produce from the float into a van, which was then donated to City Harvest London for distribution food to those who need it most. This wrapped up a fantastic day that I will look back upon very fondly.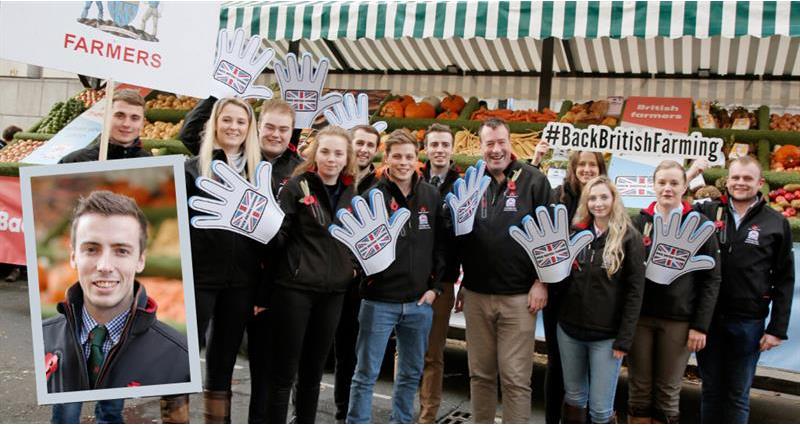 Gethin Johnson, 24, West Wales
The Worshipful Company of Farmers float resembled a traditional farmers market stall and was stocked full of fresh British produce.
We were joined by representatives from a variety of stakeholders, including all ten of the NFU's Student & Young Farmer Ambassadors, Surrey Docks, Red Tractor and Massey Ferguson - all with one passion: British farming.
Being part of the procession was a fantastic opportunity to showcase British food and farming, and iron out some recent misconceptions about the industry among the British public.
Seeing the uncommon sight of a tractor passing The Royal Courts of Justice and St Paul's Cathedral, there was plenty of attention from the crowds, who not have seen a tractor in the flesh before.
It was good to raise awareness of the machinery and people that provide them with safe, traceable and affordable food, and also are responsible for protecting the environment and its wildlife. Along the route, the crowds clapped and cheered us along as we made our way around the one and a half-mile route and it was a pleasure to see so much support for farmers from all age groups spectating.
To summarise the whole weekend into one word: phenomenal. It was an amazing opportunity for myself, a young farmer from rural west Wales to be part of such an impressive event hosted in the heart of London.
A great achievement for all involved to build a float that's capable of capturing the fantastic work that farmers do and showing it to millions worldwide and finally a phenomenally positive future for the industry.
It is more important than ever that the public Back British Farming, and the support and encouragement we received during the procession was uplifting. With such a positive response to agriculture in such an urban setting, it makes me hopeful for the future of the industry nationwide.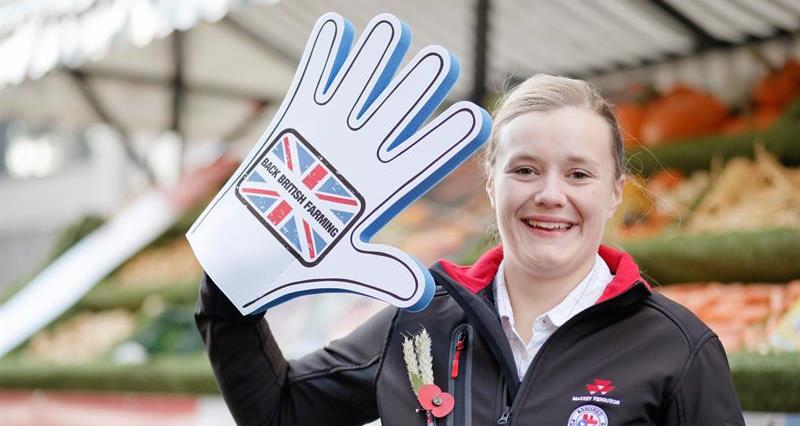 Georgina Barratt, 25, East Midlands
In what can be seen as quite a negative time for agriculture with Brexit and never-ending rain, it was overwhelmingly positive to walk through the streets of London with thousands of people cheering for farmers.
Taking part in the Lord Mayor's Show isn't just about being part of an 804-year-old tradition but also bringing the Back British Farming message to the capital.
Two Massey Ferguson tractors and a trailer with an array of British produce reminded people that every day they rely on British agricultural to feed them. Promoting Red Tractor was also hugely important at a time when Brexit threatens us with competition from food produced to lower environmental and welfare standards.
A personal highlight for me was high-fiving the crowd as we passed along the streets, and seeing small children in awe of the tractor. Being in a position to make people think about agriculture and food production is such a great opportunity, especially in London and in front of such a large crowd, and it is a key aspect of the Student and Young Farmer Ambassador Programme, and why I am enjoying being part of it so much.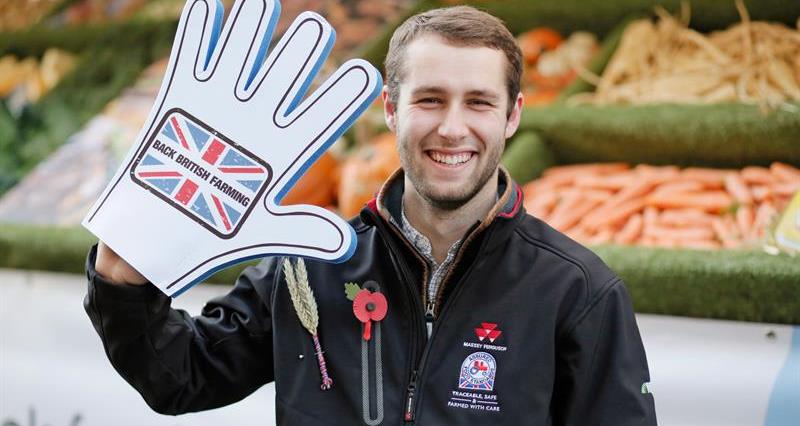 George Biss, 20, South East
Taking part in the 2019 Lord Mayor's Show is one of the highlights of the Student and Young Farmer programme. The first part of our trip to London led us to Surrey Docks Farm, a 2.5 acre city farm where they maximised their use of space having every type of farm animal.
On the day of the parade it was amazing being able to walk with a tractor through the streets of London, past St Paul's Cathedral, and being able to highlight the best of British agriculture to people on the streets as well, and those watching from their homes. To be one of many in the parade team put together by the Worshipful Company of Farmers was a privilege and being one of ten young farmers was a real honour.
The float was amazing. Having so much fresh British produce drew so much attention to our float, and the massive bright red Massey Ferguson tractor towing it meant that we stood out from the rest of the parade.
All round, this was a once in a lifetime opportunity for us all that we won't forget.
:: The Worshipful Company of Farmers entry in the 2019 Lord Mayor's Show is supported by the NFU, Red Tractor, Massey Ferguson and Surrey Docks Farm.
More from NFUonline: