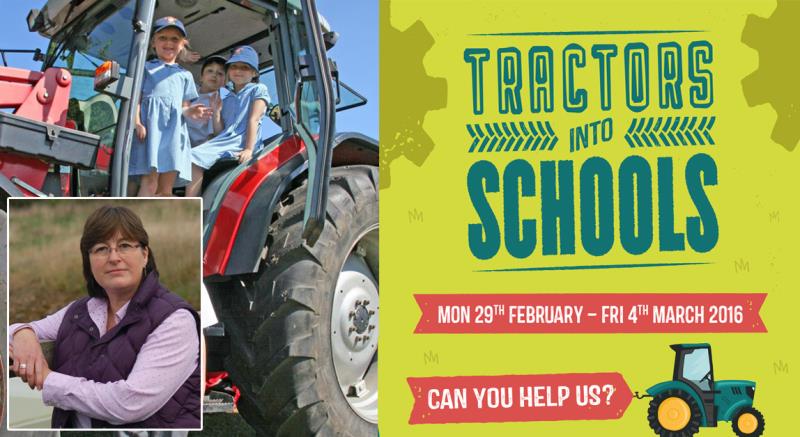 Farmers in Lincolnshire are planning to take their tractors into schools. No – it's not a demonstration or a protest. It's our way of showing kids the information that should be the foundation of their education - where their food comes from. Our East Midlands regional communications adviser, Alison Pratt, explains.
She writes:
We might bemoan the lack of connection between consumers and food; the old chestnuts of potatoes growing on trees and milk coming from Tesco's, are rolled out regularly. Unfortunately, it is still the case that children (and adults!) do not always understand how or where food is produced.
This is why the NFU in Lincolnshire and the Lincolnshire Agricultural Society have embarked on a joint campaign to encourage farmers to take a tractor into their local school, in early March. The aim is that primary-aged children will have the opportunity to see a tractor close-up and talk to a real, live, thinking, breathing, food-producing farmer.
The concept is not new – Suffolk Agricultural Association ran its campaign last year, but for Lincolnshire this is a step forward and a new and exciting initiative that we hope will build and build.
The chairman of Lincolnshire Agricultural Society's education committee, Steve Ward, wants to establish positive, local links with schools to educate the next generation not just on where food comes from, but on how important British farmers are when it comes to taking care of the countryside.
Farming has such a great story to tell and our industry is developing a ground swell of public support, so now is an excellent time to be educating our future consumers. With more than eight million people watching BBC Countryfile, the levels of interest in our industry have never been higher.
On the agenda for the farmers' pre-meetings in January were some of the practicalities of getting a tractor into a school playground, together with designing a risk assessment and deciding how to deal with 30 wandering pupils. Farming and Countryside Eduction (FACE) regional co-ordinator, Bobbie Harvey provided practical advice and wowed everyone with her suggestions for activities, including turning the children into a moving, noise-making facsimile of a combine harvester!
Talking to children and seeing understanding dawn on their faces when you describe how food is produced is one of the most rewarding aspects of NFU's work. The Tractors into Schools campaign is a new cog in the farming-education machine, which we hope will produce many more knowledgeable consumers in years to come.