LATEST NEWS
---
ADVICE AND GUIDANCE
---
BIOSECURITY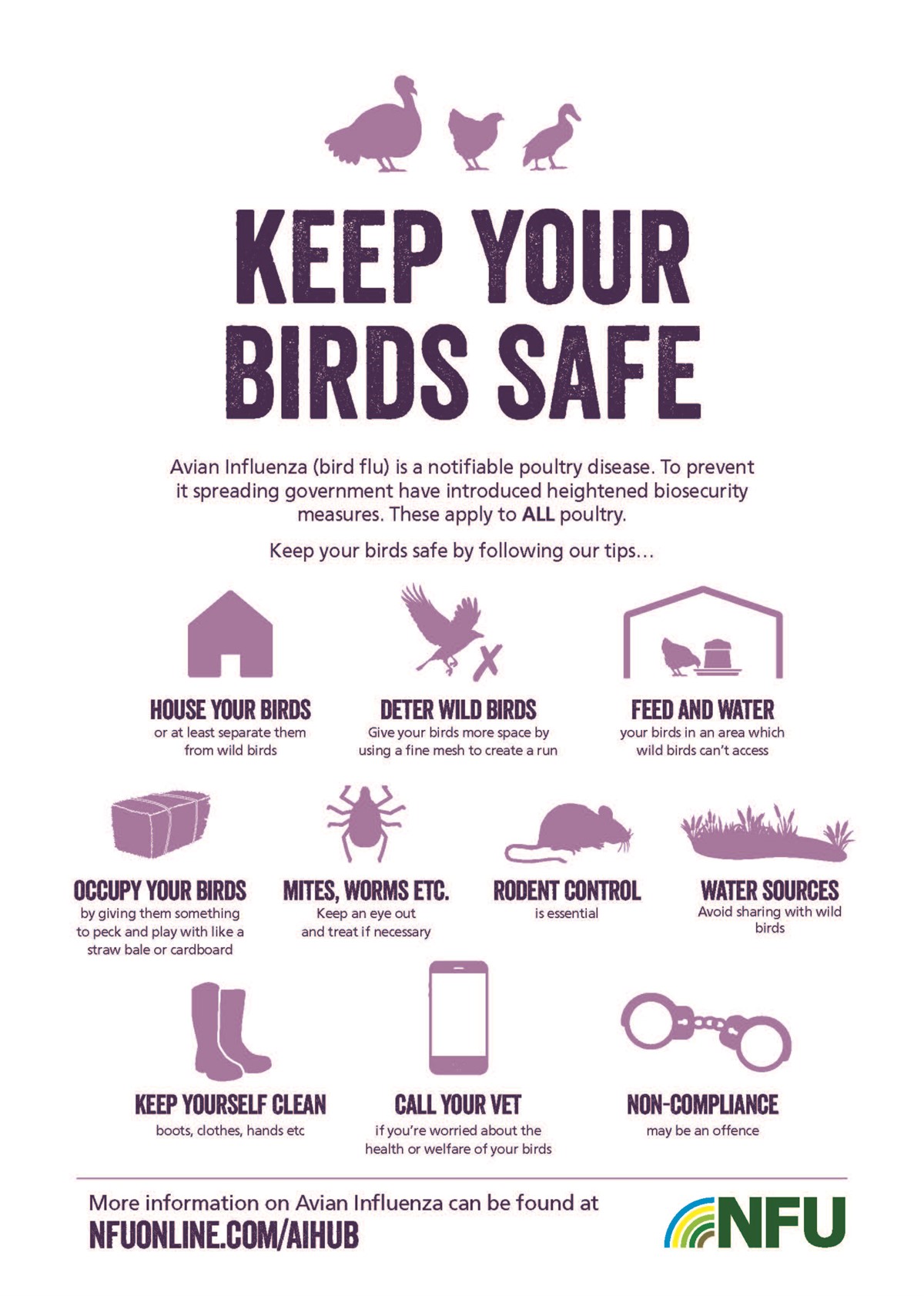 Only 1g of infected faeces is required to cause one million birds to die, therefore keeping everything that is going in and out of the shed to a minimum and as clean as possible, is the only way to minimise the risk of AI.
Defra has put together some guidance on biosecurity and preventing disease in a Prevention Zone which has good biosecurity points worth following.
The Chief Veterinary Officer, Christine Middlemiss, advises the following:
Cleansing and disinfecting clothing, footwear, equipment and vehicles before and after contact with poultry – if practical, use disposable protective clothing
Reducing the movement of people, vehicles or equipment to and from areas where poultry are kept to minimise contamination from manure, slurry and other products and using effective vermin control
Thoroughly cleaning and disinfecting housing at the end of a production cycle
Keeping fresh disinfectant at the right concentration at all points where people should use it, such as farm entrances and before entering poultry housing or enclosures
Minimising direct and indirect contact between poultry and wild birds, including making sure all feed and water is not accessible to wild birds.
"I would urge all of our poultry members to continue to practice enhanced biosecurity at all times and to be vigilant for signs of disease. I would also ask members of the public who keep hens, geese and ducks to follow Defra's advice as they have an important part to play in reducing the risk of AI both to their birds as well as the commercial poultry sector."
NFU chief poultry adviser Aimee Mahony
---
ADVICE FOR SMALLHOLDERS AND NON-COMMERCIAL POULTRY-KEEPERS
The NFU has created a poster explaining some of the biosecurity measures to take while the AIPZ and housing order is place. The poster can be printed and shared on farm or with other poultry keepers. Find it here.
Watch: Chief vet Christine Middlemiss gives advice to people with backyard flocks on what they should look out for and how to keep their birds safe
There is a greater risk of #BirdFlu to UK #Poultry & #Gamebirds during winter but there are 5 simple steps you can take to protect your birds. Watch my video to find out more. https://t.co/ee9hRVQhgj #AvianInfluenza #PetChickens pic.twitter.com/VfBpSOZq6e

— Christine Middlemiss (@ChiefVetUK) October 16, 2020
---
HEALTH AND WELLBEING
It is understandable, during these times, to feel an increase in stress or anxiety. There are a number of rural charities and support networks that can offer help to those in need.
If you are struggling or know someone who is, know that you are not alone and the below helplines are here to support:
FCN: 03000 111 999
RABI: 0808 281 9490
DPJ Foundation: 0800 587 4262
YANA: 0300 3230 400
RABI has created an online farming community where you can access free, safe and anonymous online mental wellbeing support from any device – find it here.
Farmwell has also published useful personal resilience guidance.
You can also find regional, national, and membership organisations that offer support in the Prince's Countryside Fund national directory of farm and rural support groups, here.
Members of the public are encouraged to report dead wild waterfowl (swans, geese or ducks) or gulls, or five or more dead wild birds of other species in the same location to the Animal and Plant Health Agency (APHA) helpline on 0300 303 8268.
If you're concerned with the health of any of your own birds please contact your veterinary surgeon, or if you think they are showing signs of disease please contact your local APHA office.
More from NFUonline: