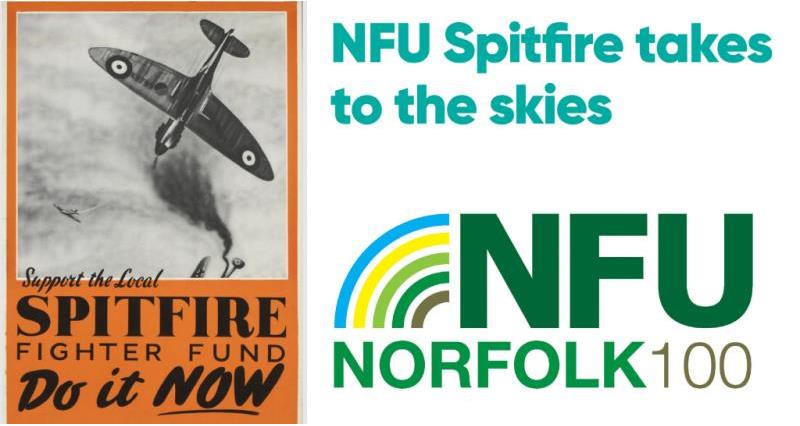 Farmers made a huge contribution to the war effort by increasing food production during the Second World War – but NFU Norfolk members went further by buying a fighter plane as well.
As the Battle of Britain raged, they launched NFU Norfolk's Spitfire Fund. The idea to start the fund came from the NFU's Loddon branch, following a suggestion from farmer Frederick Key. County Secretary Jim Wright said the cost would be about £5,000, or about one eighth of a penny per acre.
Money came in quickly. On one occasion in August 1940, £500 was collected by Norfolk auctioneer Clement Gaze at North Walsham pig market when it was decided to continue with the sale during an air raid, instead of heading for the shelters.
In September 1940, £5,000 was presented by the NFU for 'The Norfolk Farmer' Spitfire, Mark IIa P8138.
It was flown from Castle Bromwich on 15 May 1941 to Little Rissington, Gloucestershire, then to 234 Squadron at Church Fenton, Yorkshire. It went into service on 4 July at Middle Wallop, Hampshire and then the Supermarine Spitfire went to Perranporth, Cornwall, with 66 Squadron, flying sector patrols.
The aircraft seems to have more than its fair share of incidents, including hitting poles on Bodmin Moor during a practice 'rhubarb'. This is RAF slang for flying at times of low cloud or poor visibility and then looking for opportunity targets including railway locomotives, rolling stock or aircraft on the ground.
Records show it had at least four other accidents on landing and take-off over the next three years before it was finally scrapped on 28 June 1945.
Find out more about NFU Norfolk's first 100 years by clicking on the links below: