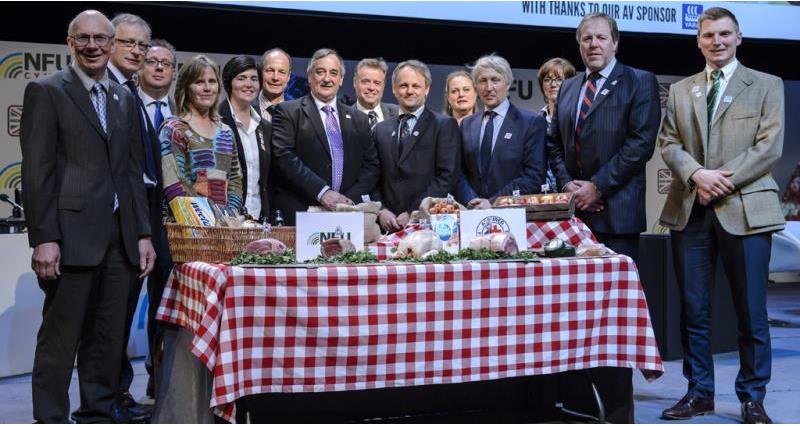 Thirteen British farmers took to the NFU Conference stage to add produce to a specially created hamper of the finest British and Red Tractor food to be sent to Liam Fox, International Trade Secretary.
NFU President Meurig Raymond said the hamper will send a clear message to the Department for International Trade promoting the high standards of British produce and urging policy makers to not undersell British farmers.
In what is the last NFU Conference before Article 50 is triggered, NFU President Meurig Raymond said in his closing speech: "During our annual conference I have talked a lot about future trade deals, how these must give us opportunities for export and how we mustn't be traded off against other sectors. Above all how our high standards mustn't be undermined.
"And I have a special message for Liam Fox, who will be negotiating trade deals for Britain. He must be proud of farming and not undersell it. Dr Fox must ensure that our high standards are maintained and we don't open up our borders to cheap food produced at any cost from around the world.
"It's been great to see so many people here at our Conference particularly the younger generation. These are challenging times but the atmosphere has been really positive.
"This is our first conference since the referendum… It will be our last conference before Article 50 is triggered.
"We have raised a lot of questions at this conference, we haven't too many answers. We must make sure that by next year we have the clarity that the industry needs.
"It doesn't matter now how anyone voted in the referendum. Now is the time for us to all unite together.
"We can deal with changes – farming is known for it. We are a resilient industry. We must come out of Brexit stronger.
"Farmers – we will only get the right deal if our voices are heard, if we shout proudly about what we give back to Britain and we take every opportunity to tell the country – and the world – of our high standards; of our pride we have in the food we produce and the importance of our industry.
"Farmers, do not underestimate the strength of your voice. The NFU is listened to. What we say really does count in Westminster and Cardiff.
"Britain is in a perfect place to produce the finest, healthiest food. We have the expertise, we have the soil, we have the climate. We all have the passion.
"Farmers – let's all get to work and deliver success."

The 13 NFU members onstage included:
beef farmer Rachel Hallos from Ripponden, Yorkshire
vegetable grower Guy Poskitt, from Goole, Yorkshire
egg producer Duncan Priestner from Lymm, Cheshire
potato grower David Armstrong from Bardney, Lincoln
pig farmer Andy Baugh from Wellow, Nottinghamshire
beef and cereals farmer Richard Bower from Penkridge, Staffordshire
apples and hops grower Ali Capper from Suckley, Worcestershire
dairy farmer Abi Reader from Wenvoe, Glamorgan
sheep farmer Kate Beavan from Llanvetherine, Wales
fruit grower Richard Pascall from Maidstone, Kent
arable farmer Mike Hambly from Callington, Cornwall
arable farmer Andrew Blenkiron from Euston, Suffolk
sugar beet and mustard grower Michael Sly from Thorney, Peterborough.