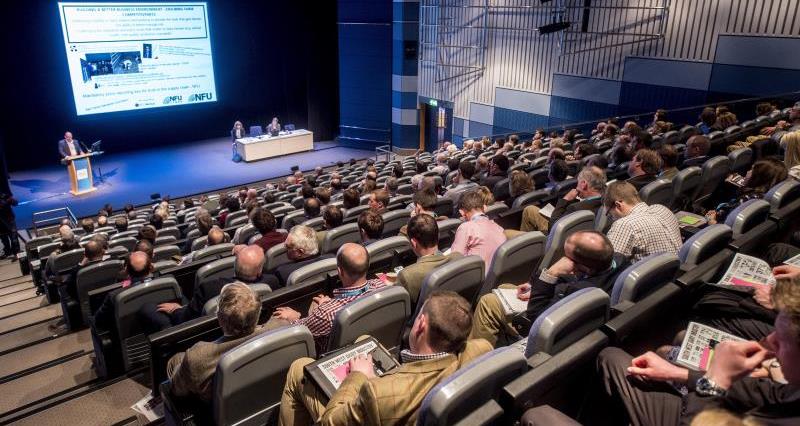 The NFU Dairy Board's three key areas for success in the sector dominated the breakout session on the second day. They are: building better, fairer supply chain relationships, building a better business environment and finally, promoting the best of British. You can view presentation slides from the session here.

Championing British Dairy Farmers
Michael Oakes, NFU Dairy Board Chairman said: "Ultimately we've got to be the best we can be on farm. We have a great industry and we don't shout about it enough. We've got to proudly speak out about it. It takes nothing to pick up the phone and tweet positively and we've got to build on that and we need you, our members, to shape consumer views of the British dairy sector."

The Current Market
Sian Davies, chief dairy adviser said: "It's been a year of market, industry and political turmoil – we've had it all. We've had the lowest farmgate milk price, major milk buyer takeovers and the biggest decision of recent times all packaged into one.
"We are focusing on three key areas: trade, a domestic agricultural policy and labour. We have huge existing tradeflows in our sector that are already set up within the EU. We are the biggest importer of cheese value-wise in the world, and the second largest importer of infant milk powder behind China. But we also have the second largest trade dairy deficit in the world. We are committed to calling for a future agreement which is as close to what we have at the moment with the EU.
"But you, our British dairy farmers, are vital. I urge you to get your MP out to your farm and talk to them about the issues you're facing. You can help influence them."

Two-way Discussions
Ms Davies added: "Farmers need to engage with their milk buyer and tell them what they want. It has to be driven by farmers. The NFU actively talks to milk buyers but it's up to a farmer group working with a milk buyer to find out what works best for them. There won't be a one-size-fits-all approach, but the point is farmers have to be the driver about deciding these terms."

NFU Dairy Session Video
For the breakout session, the NFU asked key individuals to film their messages for dairy farmers in 2017. This features George Eustice MP Defra Minister, Tomas Pietrangeli Managing Director Arla Foods UK, Rob Hutchison Muller Agriculture Director, Thierry Roquefeuil Copa Dairy Chairman, Alexander Anton EDA Secretary General, George Gordon LKL Services Managing Director and Gwyn Jones Chair of AHDB Dairy.