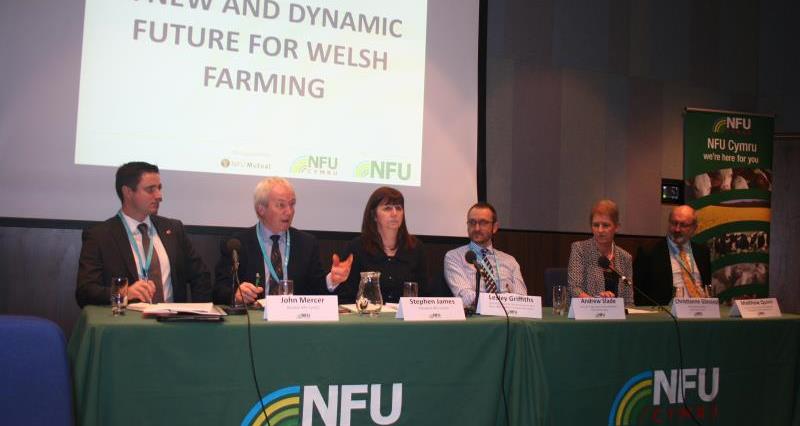 NFU Cymru used its early bird session at the 2017 NFU Conference in Birmingham to outline its priorities for governments in Cardiff and Westminster to get the best deal for Welsh agriculture post-Brexit.
In his opening speech, NFU Cymru President Stephen James highlighted the five key points that politicians must take into account when considering future policy and support for Welsh agriculture:
- Agriculture is important to the Welsh and UK economy, underpinning the biggest manufacturing sector in the country
- Securing food supplies in this very volatile world should be a strategic priority for Wales
-Farmers are responsible for the environmental management of 80% of the countryside
-Welsh farmers operate to some of the world's highest standards
- The public supports Welsh food production and the role Welsh farmers play in Welsh society.
Speak at the session, titled A New and Dynamic Future for Welsh Farming, Mr James said: "We are very clear in the priorities we have laid out to Welsh Government. We have a vision for a policy that helps to deliver a productive, progressive and profitable industry in Wales, a policy that will allow us to play our part in delivering additional jobs, growth and investment to Wales."
As part of the dedicated NFU Cymru session, NFU Cymru President Stephen James and Cabinet Secretary Lesley Griffiths took part in a panel debate with Welsh Government officials Andrew Slade, Director of Agriculture, Food and Marine; Christianne Glossop, chief veterinary officer; and Matthew Quinn, Director of Environment and Sustainable Development. Numerous issues affecting the industry were discussed during the question and answer session, including bovine TB, avian influenza and nitrate vulnerable zones.